"I have a theory! Ann Nocenti is a multi-dimensional creature that can't exist in linear time so she's just guessing at the way stories are told and people act! Reality makes as much sense to her as her comic book plots make to us!"
— Eee! Tess Ate Chai Tea, Grandmaster Comic Book Reader
""Oh woes me! Or something! I should have read the report before burning it! And I should have never done anything at all! Mother always said my paranoia would get the best of me! Unless she didn't ever say that and it was just the paranoia talking," fainted Hunt Thompson. "Why is my head on fire?" he finished."
— Eee! Tess Ate Chai Tea, Grandmaster Comic Book Reader
"Scenes from Ann Nocenti's Catwoman

Alice Tesla mentions a thing and then defines that thing. She defines it across several short, staccato sentences. Catwoman looks off into the distance and mentions the thing that Alice first mentioned but in different terms. Alice Tesla agrees and then adds a bit of information that doesn't have anything to do with anything else. Catwoman smirks. She says a thing. She says the thing a different way. She comes to a conclusion that's a half-processed idiom.

End Scene!"
— Eee! Tess Ate Chai Tea, Grandmaster Comic Book Reader
Shouldn't that be "Machinations of the Machinationist"?!
I have ten more comics to read before all the Futures End stuff hits the stands! And then I still have to read three more non-Futures End comics that come out Wednesday before I can partake of DC's Annual Raise the Price of All the Comic Books September Extravaganza! So I don't have time to ramble about stupid bullshit, you guys!
Oh god! Kill me now, you guys! Eeek! I literally just said, "You guys!" Ack! I literally said "literally," you guys! Oof! I think have a Tumbl Virus!
But seriously you guys, let's read some Superman! It's totally important.
This issue begins with the man with the stick. It's literally some Ingmar Bergman Death guy, you guys! He's all important and stuff!
Only 50s kids will understand!
"The thing Clark wanted to speak with Perry about that was supposed to be the subject of the last paragraph until I decided I wanted to talk about Cat Grant a little bit was an article that Perry wrote twenty five years ago about the Ulysses Project. That was a project in 1990 where a bunch of scientists decided that if Warrant's "Cherry Pie" could be a top ten hit, the end of the world must be near. So they buried themselves in a bunker under Omaha and then all subsequently died when a couple of randy scientists monitoring emergency panels began swingin' on the floor and didn't notice all the dials were inching into the red."
— Eee! Tess Ate Chai Tea, Grandmaster Comic Book Reader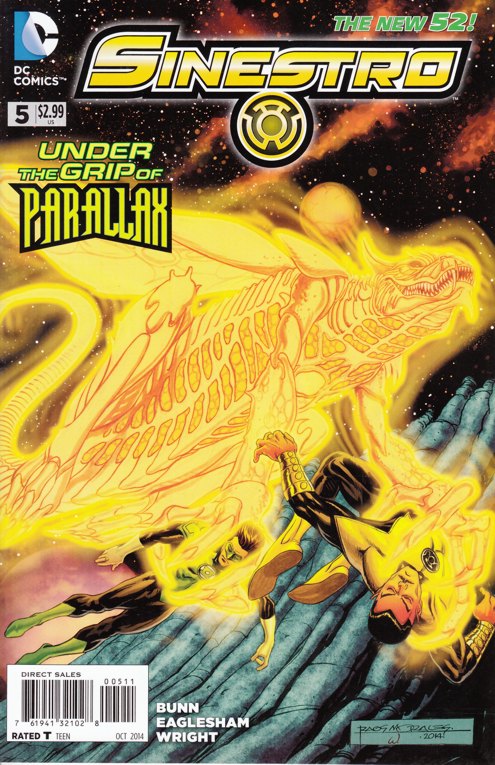 Parallax is simply the physical manifestation of DC's mistake in making Hal Jordan evil.
Whenever a new season of Parenthood drops on Netflix, I wind up binge watching it because, sometimes, you just have to watch a show that you really shouldn't be watching. Here's how nearly every scene goes in Parenthood: once character stumbles on their scripted lines as the character they're speaking too blubbers and mutters and gasps and repeats words from the other character's lines in shock and astonishment. Then the other character speaks their scripted lines as the first characters mutters and mumbles and emotes in reaction to the other character's reaction. Nearly every scene introduces a conflict because the basis of the show is how family can overcome anything, even all fifty thousand stupid, bullshit conflicts the characters have to deal with in each of the ten thousand mini-scenes set up in the first thirty five minutes of every episode. A lot of time is spent having Character A tell Character B how they should be seeing their lives while Character B looks contemplative and hurt. Character B then goes off to fuck up their life because of that seed of doubt put in them by Character A who has moved on to fuck up Character C's life with more doubt and insecurities. But I think the only reason I hang on and keep watching the show is because of Ray Romano's character. If anybody on any show has ever captured how I interact with other people, that's the character.
Speaking of Ray Romano, anybody remember his appearances on Dr. Katz? He fucking killed those episodes. His sitcom should have been fine tuned to his act instead of watered down for family television. But whatever. I guess masturbating on your twins isn't acceptable for family television. Also, I'm not sure he ever made any jokes about masturbating on his twins. Also, I think I just realized why no network has ever picked up any of my scripts for television shows.
"Sinestro #4 Rating: No change. The Paling really aren't much different than The Third Army or Volthoom or Relic or The Manhunters or whatever is cy-Borg-ifying all the heroes in Futures End. I guess when DC finds a plot they love, you can't pry it out of their pale, weak fingers. I bet that's because everybody in the offices at DC Comics are pale mutant vampire people! They're all the same which is why they don't understand representation and diversity. Why would anybody want to be different? "JOIN US," they moan in bewilderment and pain. "JOIN US!""
— Eee! Tess Ate Chai Tea, Grandmaster Comic Book Reader
"Sinestro has a momentary hallucination where he sees Hal Jordan taking everything he ever had. I'm not sure how that's supposed to make Sinestro unemotional. The Paling are doing it wrong! You don't try to humiliate somebody, or scare somebody, or show somebody naked pictures of sexy creatures to get them to lose their emotion! What you do is calm them down, sedate them, put them in a medical coma. Make them watch a few episodes of The Chew until their brains are as numb as the hosts of that stupid fucking show. Why are people so fascinated with watching other people cook food? I understand when Gordon Ramsay is involved because it's always nice to hear some asshole get called a donkey eighteen hundred times. Other than that? Boring! Just shove food in me and I'm good but don't make me watch other people jerk off people that are cooking for them. Actually, I'd watch that cooking show in a heartbeat."
— Eee! Tess Ate Chai Tea, Grandmaster Comic Book Reader
"Here's the problem with The Paling. If they were truly without emotion, they wouldn't care that other beings feel emotion. They betray themselves by caring! A truly emotionless Paling would be sitting on a ratty sofa at the ass end of the universe smoking a bowl while he ignores his responsibilities. I guess that doesn't make for a great antagonist though. Oh well! I've bought into worse stories in The New 52!"
— Eee! Tess Ate Chai Tea, Grandmaster Comic Book Reader