Eee! Tess Ate Chai Tea!
May 19
Nightwing #20
The Prankster uses a special kind of electricity that doesn't shine any light.

Dick Grayson is in Chicago trying to find Tony Zucco, the man that killed his parents. He's also the man inadvertently responsible for him becoming Nightwing, if you're one of those weirdos that tries to see the positive in everything. He's renting out a room in some crappy little apartment. But at least it includes furnishings and a half-naked woman. But then again, if you're a normal person that always knows things are worse than they appear, you won't be surprised that the half-naked woman has a bat and can't wait to use it.


Look, I didn't get much sleep last night. So think up your own Batwoman and/or Dick joke here.

Dick sure meets a lot of cute women. But does he ever meet in normal women? I think Sonia was the only normal woman he's met in a long while and she turned out to be the daughter of the man that murdered his parents. And by that record, my guess is this new girl that he's rooming with is The Prankster.



jenstansfield asked: Hi. Not sure how to start this off so I'll just come out with it - I love what you're doing here. I read a lot of your reviews, even the ones for books I don't follow. (I'm actually debating picking up Nightwing based on your stuff.) They're interesting, they're fun, and I really enjoy your writing style. Anyway. Sorry about the unsolicited "OMG, you are, like, so great!" note in the ol' Tumblr askhole. I shall slink off to my corner of the internet now.

OMG! Pick up Nightwing! I'm actually considering picking up Preboot Nightwing stuff simply because his character has grown into such a neat person. From a guy I really couldn't stand leading the Titans decades ago to one of the most mature heroes out there!

Oh, and thank you! I always enjoy unsolicited stuff in my askhole!
May 18
My Cabbage Patch Kids were cosplaying before you were born.
Secret Identities: Clement Woody and Jason Duane.
Outfits by my mother nearly thirty (holy shit) years ago.
Vibe #4
How can you be betrayed by somebody whose trust you've never earned in the first place? Punch him in the throat, Batman!

Vibe has begun to get suspicious of A.R.G.U.S. and Agent Gunn and Amanda Waller. I would say it's about time but he's actually come to the realization much quicker than I would have expected. Perhaps he'll run into Batman as he's investigating the Justice League of America. That pronoun was meant to be ambiguous because I think they'll both be investigating the JLA when they they walk backwards into each other in a dark subbasement hallway.

The issue begins with Agent Gunn's wife starting an argument.


Why do so many strong, young black men got to go for these white bitches?

Casey has no idea what he's arguing for. All Casey wants is for Gunn to wear a stupid ring when he's at work. A lousy ring! Casey really wants to risk his life for a tiny, insignificant, minute little point? Casey! Wake the fuck up, dumb dumb! A.R.G.U.S. fucks with super villains heroes! Somebody is eventually going to get pissed and you think you're going to be able to defend the home with your dish soap soft hands? You're in construction, right? Perhaps you should get busy with the fucking coffin.



"So Geoff Johns is already off Vibe. I realized he was only on the thing to give it a bit of a jump start and then he was going to move on to give a monthly title to the next big DC loser that nobody would ever want to see in a monthly title. Taking over for writing duties is Sterling Gates. The only other thing I've read by Gates is The New 52 Hawk and Dove which was just awful. Although Sterling Gates assured me it was meant to be that way." — Tess Ate Chai Tea, Master Comic Book Reader and Mean-spirited Shitheel.
Batgirl #20
Thanks a lot, Gail and Daniel. Now people are going to cosplay this Ventriloquist and I'm going to continuously be running and screaming through every convention I go to.

Let me guess: Alysia is going to play Hitori Kakurenbo and unleash this horror on Gotham? That would actually be a pretty good origin story for a horrible supernatural villain.

Also, Batgirl no longer has a diary because I was tired of writing Batgirl's diary. Sure, it was easier than actually commenting on the quality of the story. But I let it go for at least five issues longer than I wanted to. I should just start up my own diary.

Dear Diary,

Today I ate a whole box of Oreos. There was little time for anything else. Talk to you tomorrow!

Love,
Tess Ate Chai Tea

The issue begins nine years ago in the creepiest part of Gotham: the suburbs.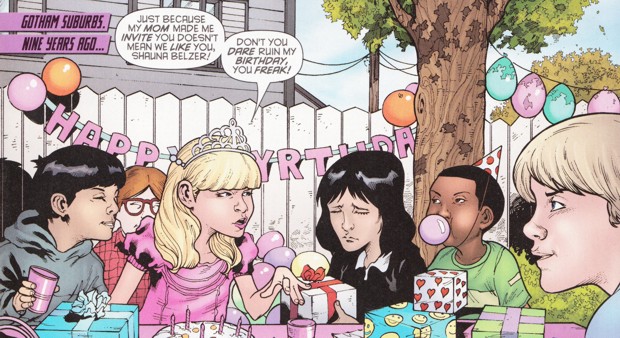 Happy Byrthday? Is there some kind of discriminatory association with having an "I" in "birthday"?! Was it too egocentric with the "I"?

Here we see kids being assholes.


May 17
Threshold #5
I've always considered "Brainiac" to be the most egotistical, narcissistic name a villain could choose for himself. Besides maybe Gigantic Penis.

I couldn't think up a more egotistical name than Brainiac that a female superhero could use because Gigantic Vagina doesn't have the same ring to it. Besides, the actual joke is about men and their brains and their penises anyway. So if you're female and you felt left out that I didn't include you in the opening joke, you probably shouldn't worry about it because it was making fun of men. I can make fun of women too but I hate being glared at as if I just broke ground on a concentration camp. So my policy is to never crack jokes* that degrade women**.

*By "jokes", I of course mean ranting, raving phrases placed one after the other in a specific way that amuses myself and maybe three other people.
**Please don't read any of my other commentaries.

On Tolerance, Ember and Stealth are reveling in a quiet, non-pursued moment of introspection and missing-chunk-of-the-city sightseeing. Or is it siteseeing since you're seeing a site (or a non-site in this situation)? Sightseeing seems redundant! I guess a site is just a site until it's been seen and then the person that has seen it declares it a sight to be seen by other sighters.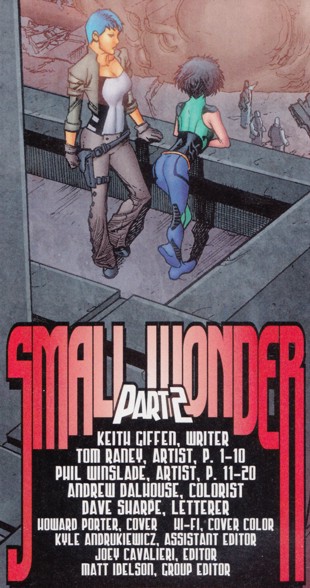 Oh god. Small Wonder was the most uncomfortably awkward show ever to be poorly written and created for syndication. I blame it and Pippi Longstockings for ruining my Sundays while growing up. Not that I didn't watch Pippi every time I found it on television. The dubbed voices and weird actors creeped me out but I learned how to live from Pippi! Horses in the house? Check! Monkeys in waistcoats with surnames? Check! Candy for breakfast? Check! Chests full of gold dubloons? Well, not yet but I've still got plenty of time! Those are harder to come by when your father is an alcoholic but not a pirate.
I have a confession to make: I am in love with Threshold's back-up story. It's witty and intelligent and silly and whimsical and goofy and smart and has a crazy, beautiful art style. It's what I want in my comic books. Let's have less sad comic books putting their lead characters though misery and more crazy, over-the-top, fun and smart comic books. Mature content does not have to mean death and sadness.
May 16
Demon Knights #20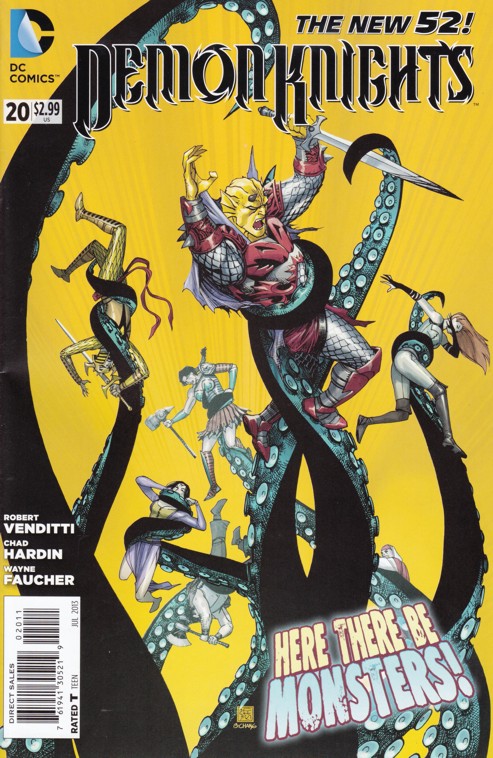 I wonder if Octopi feel slandered and defamed because of Hentai? Because I can't see a fucking tentacle anymore without believing it's in search of an open orifice.

The Demon Knights have saved Themyscira by killing all the vampires. Although Cain escaped so he's sure to go make more vampires before The Demon Knights can lock him up inside of Andrew Bennett. And The Shining Knight has gone all Bladey and become a half-vampire or something. I think The Shining Knight's goal is to eventually be able to check every single box in the race category on the census form.

As thanks for saving Paradise, Hippolyta has some information for the Demon Knights concerning their quest.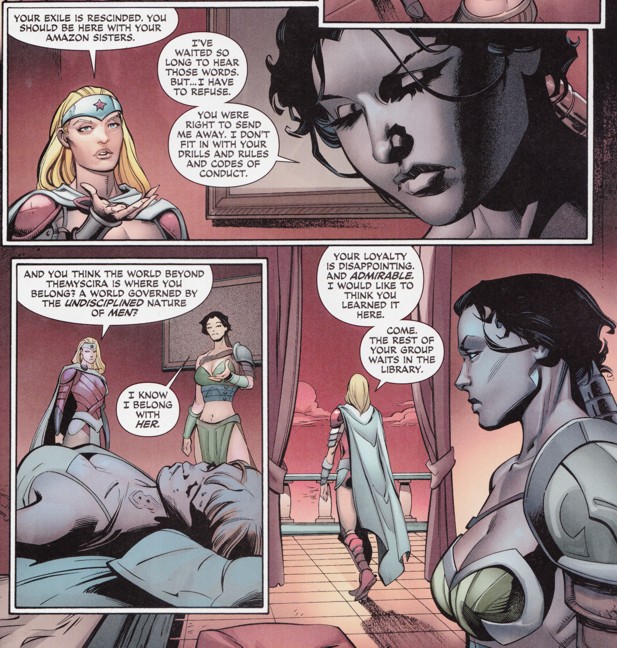 At least when Sir Ystin turns into a vampire, she'll easily be able to walk amongst the humans since she has so much practice passing.

Hippolyta directs the Demon Knights to the Amazonian Library of Congress to learn about The Holy Grail.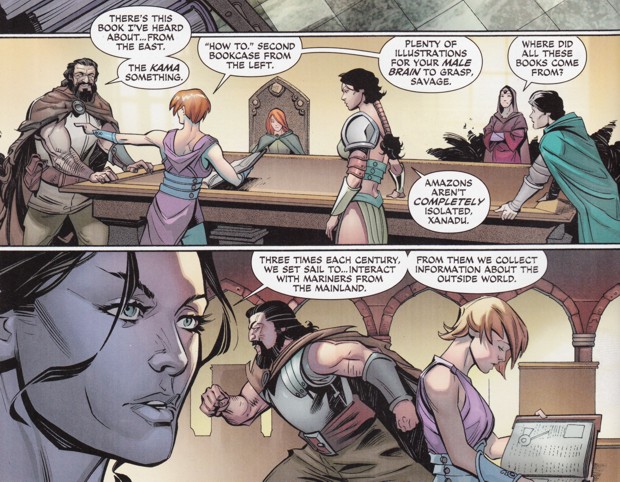 Excerpt from Richard F. Burton's translation of the Kama Sutra: "The following women are not to be enjoyed: a leper; a lunatic; a woman turned out of caste; a woman who reveals secrets; a woman who publicly expresses desire for sexual intercourse; a woman who is extremely white; a woman who is extremely black; a bad-smelling woman; a woman who is a near relation; a woman who is a female friend; a woman who leads the life of an ascetic; and, lastly the wife of a relation, of a friend, of a learned Brahman, and of the king." So that leaves what? A young, mute, slightly tanned stranger that has just taken a bath and doesn't want to have sex with you?

Exoristos almost goes into the story told in Wonder Woman about how the Amazons mate. My only question is if they only get reading material from sailors, shouldn't it all be porn and Stephen King novels?



Speaking of Revelations, isn't it somewhere in that Biblical book where they speak about the Mark of the Beast? Oh yes, here it is. Revelations 13:16-17: "And he causeth all, both small and great, rich and poor, free and bond, to receive a mark in their right hand, or in their foreheads: And that no man might buy or sell, save he that had the mark, or the name of the beast, or the number of his name." I don't know about you but it sure sounds like cell phones to me. Why would the vision confuse the mark as being on the hand or possibly the forehead? Oh, I don't know. Because you hold the stupid thing up to your head? Yeah, you all fell for it! You've all been avoiding government chips and ID cards but y'all took the stupid Mark of the Beast of your own volition because it was too tempting not to have! It's obvious that's the way the Mark would end up being distributed. Not as something forced on the populace but something the populace felt they couldn't live without. I don't think my burner phone I use exclusively for work counts since I can't buy anything with it. So I'm saving you all from the End Times by being one of the few not yet succumbing to the Mark. So don't let me die! I'm saving the world over here!