Eee! Tess Ate Chai Tea!
May 20
"After a conversation I had on Facebook this morning, I feel the need to go write some really horrible fanfic where I ship Willy Wonka with Mary Poppins. They're my two most favoritest people in the world and even though I also love Bert, he'd have to go. He'd be found dead in the park in a hard, candy shell with lots of tiny footprints surrounding his corpse in the mud. Scotland Yard would send out their crime scene specialists who would discover all sorts of strange, alien DNA at the scene. I'm pretty sure that's as far as the investigation would go because Willy Wonka is a rich bastard and Bert is just a lower class chimney sweep, so Scotland Yard would bury the case and forget about it. Meanwhile Mary Poppins and Willy Wonka would be fucked up on Spoonfuls of Sugar and fucking like maniacs in a chocolate river." — Tess Ate Chai Tea, Master Comic Book Reader and Dancing, Singing Orange Penguin.
Supergirl #20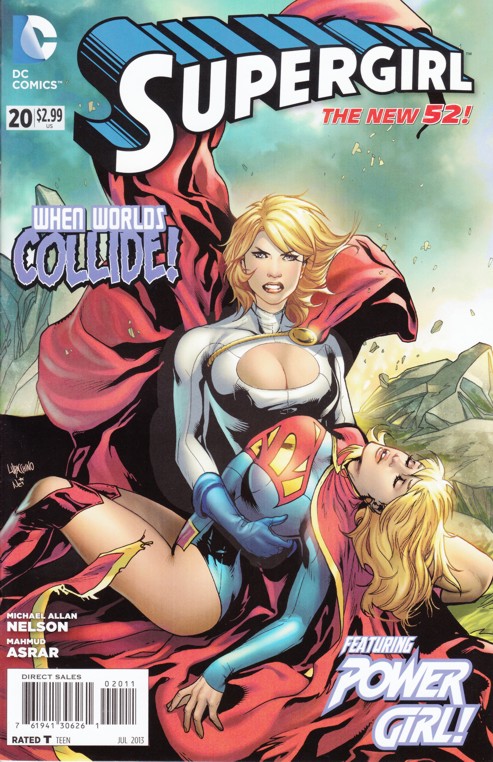 Power Girl was so upset her boobs weren't the focal point of last issue's cover, she killed Supergirl to claim focal boobage. Perhaps it was meant to distract people from noticing Michael Alan Nelson's name was spelled wrong.

This is the third issue in a row to have a different writer. That can't bode well for the comic, can it? Perhaps the editors are simply telling the writers what they need to write which is why the writers aren't hanging around because who needs a stupid editor telling you what to write when they're job title is "editor" and not "writer"? Editors are jerks! They're just Fuddyduddies that rain on parades and refer to 'artistic expression' as 'grammar errors.'

Last issue, the Fortress of Sanctuary decided that either Kara or Karen was a clone and thus it had to destroy them both. Better safe than allowing a disgusting, nasty clone to live so it can steal a normal Kryptonian's job. According to the cover, boobs. I mean, Kara is going to be killed! So then will Power Girl take over as the new Supergirl? That's probably exactly what's going to happen.


My initial reaction to the first page was "Love Mahmud's art!" The I thought, "Sanctuay is an annoying bitch." But by the end of the page, I was totally, "I think I like Sanctuary!"
May 19
Sword of Sorcery #8
Eclipso knows how to satisfy the ladies!

Here's the secret to writing: don't give a shit what anybody thinks! There might be some other secrets as well. Like exaggerate as much as possible. And maybe create unlikable characters that people really like to dislike. Also always tell the truth when lying as much as possible. That one is pretty important. Never letting your spouse or parents or children or siblings read what you write helps you to be more truthful, so don't show anybody you care about. If they tell you it's good, you won't believe them and if they tell you it sucks, they're assholes. Also, you're probably writing nasty things about them because writing is a good way to get negative shit off of your chest and you probably don't want your husband reading about how much you hate it when he scratches his balls and sniffs his fingers.

Here's the secret to writing that everybody always tells so it's not actually a secret: if you want to write, write. As a Reader, you might think that's the worst advice you've ever heard! But boy howdy is it good advice since Writers are fucking lazy assholes! Seriously! They want to make a living out of simply spewing imaginary pablum from our imaginations? Really?! Go build something, you lazy twat!

Actually, Writers are very busy and industrious, so that previous paragraph was one of those exaggerating lies of truth I mentioned. You'll never see a cleaner house than the house of a Writer avoiding writing!

If you want to read one of the greatest books about Writing while at the same time reading a lot of pretty good pornography, you should read Nicholson Baker's The Fermata. You know something I forget to do all of the time? Put titles of things in italics. That's because I use quotation marks so much due to referencing comic book issue titles and also because I'm an idiot who hates remembering stylistic norms. There might be better books about Writing out there but I guarantee they won't have any porn in them.

You know what other book probably doesn't have any porn in it? Sword of Sorcery! It even lacks the stereotypical chainmail bikinis and barely covered sorceresses and oiled up barbarians in loincloths with their wangs hanging out. I bet nobody in Fantasy Worlds was ever having sex due to all the chafed, pinched, bruised, and battered genitalia.

Meanwhile on Gemworld, I believe these two panels sum up the action decently enough since I wasted all of my summing up paragraphs with bullshit.


I don't think this is his work but I saw Travis Moore in the art credits with Aaron Lopresti and John Livesay and I remember really hoping to see more of his work last time I saw his name in Sword of Sorcery #4. Look at me with the research instead of just saying "last time in whatever fucking comic book he drew."
vivvav replied to your quote: My body would be so incredibly fit right now if…
Except the amount of cookies you eat IS related to how fit you are, just not in a positive way.

I don't have time to respond to this because I need to begin my workout now. *munch munch munch*

"My body would be so incredibly fit right now if fitness were directly related to how many cookies you eat." — Tess Ate Chai Tea!, Master Comic Book Reader and Snackersizer.

"Amethyst sold out Gemworld for a slice of pizza. That's just fucking terrific. This is why I never allow anybody to do anything for me that might possibly constitute a favor! Wait, that's not true. I let people do stuff for me all of the time. But I've cultivated a sophisticated tactic of never, ever repaying anybody for anything so that they know better than to expect that I'll help them out with any of their problems. It makes life so much easier. For me!" — Tess Ate Chai Tea!, Master Comic Book Reader and Freeloading Dickface.
Nightwing #20
The Prankster uses a special kind of electricity that doesn't shine any light.

Dick Grayson is in Chicago trying to find Tony Zucco, the man that killed his parents. He's also the man inadvertently responsible for him becoming Nightwing, if you're one of those weirdos that tries to see the positive in everything. He's renting out a room in some crappy little apartment. But at least it includes furnishings and a half-naked woman. But then again, if you're a normal person that always knows things are worse than they appear, you won't be surprised that the half-naked woman has a bat and can't wait to use it.


Look, I didn't get much sleep last night. So think up your own Batwoman and/or Dick joke here.

Dick sure meets a lot of cute women. But does he ever meet in normal women? I think Sonia was the only normal woman he's met in a long while and she turned out to be the daughter of the man that murdered his parents. And by that record, my guess is this new girl that he's rooming with is The Prankster.



jenstansfield asked: Hi. Not sure how to start this off so I'll just come out with it - I love what you're doing here. I read a lot of your reviews, even the ones for books I don't follow. (I'm actually debating picking up Nightwing based on your stuff.) They're interesting, they're fun, and I really enjoy your writing style. Anyway. Sorry about the unsolicited "OMG, you are, like, so great!" note in the ol' Tumblr askhole. I shall slink off to my corner of the internet now.

OMG! Pick up Nightwing! I'm actually considering picking up Preboot Nightwing stuff simply because his character has grown into such a neat person. From a guy I really couldn't stand leading the Titans decades ago to one of the most mature heroes out there!

Oh, and thank you! I always enjoy unsolicited stuff in my askhole!
May 18
My Cabbage Patch Kids were cosplaying before you were born.
Secret Identities: Clement Woody and Jason Duane.
Outfits by my mother nearly thirty (holy shit) years ago.
Vibe #4
How can you be betrayed by somebody whose trust you've never earned in the first place? Punch him in the throat, Batman!

Vibe has begun to get suspicious of A.R.G.U.S. and Agent Gunn and Amanda Waller. I would say it's about time but he's actually come to the realization much quicker than I would have expected. Perhaps he'll run into Batman as he's investigating the Justice League of America. That pronoun was meant to be ambiguous because I think they'll both be investigating the JLA when they they walk backwards into each other in a dark subbasement hallway.

The issue begins with Agent Gunn's wife starting an argument.


Why do so many strong, young black men got to go for these white bitches?

Casey has no idea what he's arguing for. All Casey wants is for Gunn to wear a stupid ring when he's at work. A lousy ring! Casey really wants to risk his life for a tiny, insignificant, minute little point? Casey! Wake the fuck up, dumb dumb! A.R.G.U.S. fucks with super villains heroes! Somebody is eventually going to get pissed and you think you're going to be able to defend the home with your dish soap soft hands? You're in construction, right? Perhaps you should get busy with the fucking coffin.