OMAC was created by Jack Kirby. I just learned that from the OMAC title page. But I guess it's fitting that he's being drawn by Keith Giffen since Giffen seems to have gotten his ability to draw by eating old Jack Kirby comic books. Seriously, it's just so old fashioned. He might even be drawing a bit more Kirby style than normal here. You know? On purpose. Except Giffen's OMAC is just a tad different than Kirby's OMAC.

More of a runner than a weightlifter.
The title of this issue is "Office Management Amidst Chaos". I guess I don't have to make a whole bunch of 'What does OMAC stand for?' jokes because they're going to do it themselves! OMAC stands for One Man Army Corps, by the way. Jack Kirby should have sued the government when the Army started using the slogan 'An Army of One.'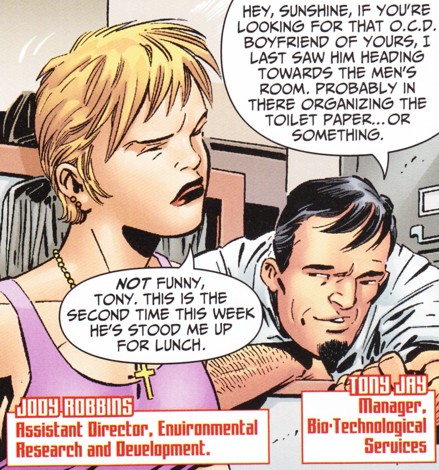 I don't think that outfit is work appropriate. It must be Friday.
Jody Robbins is looking for her boyfriend. But he's nowhere to be found and his computer monitor has a picture of OMAC on it! I wonder if he might be OMAC!? It's possible because OMAC smashes through the wall like Kool-Aid and begins taking orders from Kevin's computer monitor. And when Jody calls for Kevin, OMAC looks toward her.
Okay, big deal, this Kevin guy is OMAC. The real question is who is OMAC? And maybe a fantastic question would be who is Kevin? Oh! A mythical question might be who is the person giving OMAC orders through the computer? And then an urban legend question could be what does OMAC want with Cadmus? This paragraph is starting to sound like the last minute of every Soap episode. But since OMAC has been cancelled, will any of these questions be answered?
The disembodied computer voice speaking to OMAC is trying to get back into the basement of Cadmus. It's using OMAC as its body and its weapon. The basement of Cadmus is a strange place. Lots of genetic experiments running around. OMAC runs into a guy named Dubbilex who can read minds. He begins to learn some of OMAC's secrets but OMAC slaps him into unconsciousness. Then a woman attacks him. She turns out to be a Build-a-Friend and guns come out of her face. She blasts away at OMAC but OMAC slaps her into debris. Next, a bunch of little gobbling monster dogs come trotting out to eat OMAC but OMAC slaps them into jelly.
OMAC and the voice reach the mainframe and merge with it. The voice grabs all of the files and then they escape by teleportation. Kevin awakens in the middle of Arizona. Or New Mexico. He has no memory beyond having gone to the bathroom. But the voice, calling itself Brother Eye, calls him from space. Brother Eye is a satellite that looks like an eye! It claims Kevin's life is now its and that Kevin should probably call his girlfriend because she's worried about him.
And that's it. I guess with a comic about a big hulking blue brute, I shouldn't expect there to be a lot to it! Just a lot of smashing and OMAC barely able to put three words together and a voice guiding the brutish thing. It's another one of those comics that the first issue just isn't long enough with 20 pages. You don't get a decent chance to figure out what's going on. I imagine a lot of people didn't buy this title because OMAC isn't exactly a popular character. Or a known character for most people! And after this first issue, I don't see a lot of people being intrigued by it or feeling they care enough to know what happens next.
Anyway, I'm sure there will be a lot of people getting beat up.