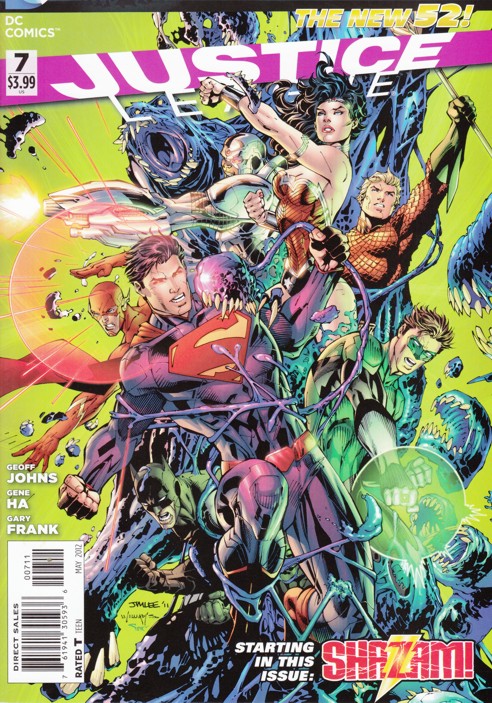 Now THAT'S an Amorphous Tar Monster!
Justice League has now moved into the future. I guess the first story was just to let us know how it all began this time around. Even though it doesn't even matter. Because Issues #1-6 are the new way in which the Justice League met. But then everything that ever happened to these seven heroes across the Old DC Universe has now happened to them in the space of the last five years. Except maybe Crisis on Infinite Earths since Barry Allen died in that. And maybe some other things. Like Amanda Waller not getting fat or aging for about a decade. Maybe that's in her future!
Why am I even talking about The Wall? She isn't in this comic! But Steve Trevor is! That's the guy who brought Wonder Woman to America. He runs some organization called A.R.G.U.S.H.: Advanced Research Group Uniting Super Humans. Except they refer to it as ARGUS. Maybe he's become the Justice League's manager!
Currently, his team of normal humans are fighting the little tar monsters but none of the normal, normal humans believe they can defeat them without the help of the Justice League. Even a Goddamn reporter interferes and acts like she's got the most important job in the world and everything needs to stop to pay attention to her.


Fuck bitch! Give a guy some room to save your ass.
The Justice League beat up these little spores or whatever they are pretty handily. Green Lantern runs them over with a giant green train. How imaginative. He already used the train in Voodoo! I can't believe we're getting light creation repeats already! The rest of the Justice League just hit stuff. But what they're really looking for is some guy named Samuel Street who was transporting some virus and then exposed to it. He mutated into something they're calling Spore. The little black tarlings are his seeds. I thought they looked a bit semen-like.
This whole catastrophe began when some unknown somebody broke into some government Black Ops Trophy Warehouse and stole the Orb of Ra. So that means Metamorpho is going to return to the New 52, right? RIGHT?!
The Justice League track down Spore fairly handily and begin the process of beating him up. It's a fairly standard story.

Is Superman this demanding on all of his dates?
After Spore is stopped (that panel up there is the last panel of the fight), Steve Trevor has to hold a press conference. This is where the story really starts. It's about what Colonel Trevor has to go through as liaison for the Justice League. The press just hound him and call for the Justice League replace all the elected officials (stupid). Then Congress addresses him and says they want to control the Justice League. So Trevor threatens that the Justice League might not like Congress acting that way and they just might have to expose some of the Congressmen's secrets. The Congressmen start apologizing and back pedaling. I'm pretty sure they would really just scowl and get some Black Ops department to assassinate Steve Trevor. Like maybe the Suicide Squid Squad?
The main thing everyone wants to know is this: Is Colonel Trevor banging Wonder Woman? He denies it but when he's alone, the first thing he does is fire up Skype.

That's the look of someone who's getting laid!
Trevor fills the Justice League in on what he learned from Congress. He also talks with some of the other members a bit and we learn that Congress pays billions to keep Argus and the Justice League running. Which is why they want a little control. We also learn that Batman is a big two-faced lying hypocritical asshole who must be lying to Booster Gold if this comic book is to be believed.

All Batman has been doing is encouraging Booster and telling him the world needs the JLI. Is that supposed to be all bullshit simply because Batman doesn't want to deal with the politics of working with differing nations? Because that's not like Batman. If he really felt THIS way, he wouldn't be acting the way he is with Booster in JLI. I mean, I agree with his Batman. But this is really just Geoff Johns fucking up Batman's character to get a dig at Jurgens' horrible comic.
After the Skye session ends awkwardly, Trevor's assistant pokes her nose into his business. He confesses that he loves Wonder Woman and he's already told her. So who knows where that's going!
And finally, the guy who has been writing all of the books about the Justice League and Atlantis and other supernatural or paranormal events, David Graves, is revealed to be the man who stole the Orb of Ra. He also believes he knows how to defeat the Justice League and the key is Colonel Steve Trevor. Dun dun DUN!
The back-up story is about Shazam who is now called Shazam and not Captain Marvel. Seriously. It's about time. That's all anybody ever knew him by anyway! And it's not like Marvel has a Captain DC. Unless they do! That'd be pretty cool.
It just sets up the story. Lots of people have been tested to be Shazam but it hasn't taken. Dr. Sivana has been noticing these stories and believes some kind of magic is happening that he can use for his own ends. I wonder if he still has the tiny Mr. Mind in a jar in his lab? And Billy Batson is an asshole looking for a foster family. He acts nice but he's a little punk. And that's it. Just an introduction, really. But it looks like Shazam will be a continuous back-up feature in Justice League for the time being. I'm kind of looking forward to his.
Justice League Issue #7 Rating: No change. I like that the issue didn't revolve around a big fight. A lot of background stuff involving Trevor and how the Justice League functions and pays for itself. But I can't look past that bit where Batman throws the Justice League International under the Batbus when he's been nothing but supportive of it and to Booster over in Justice League International. Poor character work there, Johns.