I'm pretty sure Harley got a boob job as well as a costume change for The New 52.
Speaking of cosmetic changes for The New 52, here's skinny Amanda Waller and her Jesus hand:

Amanda Waller has man hands and I'm not talking about the one in the tank.
What is it about Amanda Waller that she needs to have such a tight control on the people she works with that she'll jeopardize missions by not telling her crew what they need to know? I think it's time for a look into Amanda Waller's past with a short story from a famous author.
Loved So Much She Is Murdered
By Grunion Guy
"I sure wish this house wasn't haunted by that baby I murdered because I loved it so much," wailed Amanda Waller the way the Black Banshee wailed at Supergirl.
"I sure wished that too, mama," agreed Amanda's other baby that she didn't murder even though she loved it just as much as the murdered one.
"I sure wish my man were still in my life instead of not being in my life the way he isn't right now. It sure weighs hard on me," said Amanda rationally although she probably should have been weeping it except by not having her weep it makes her seem stronger than she actually is even though she's not strong at all but out of tears actually.
"I's come back and I love you, Amanda!" said Amanda's man in her daydream she was having but I didn't explain it was a daydream first so that the reader would get their hopes up and then crash back down to being sad when they realized it wasn't real.
"I wish I had more control of my life and that I wasn't a victim of this stupid white society that is racist against people of color and people who are half-fish also," she declared strongingly. "Oh! Oh! If only I could be a powerful skinny black woman running a secret government organization, I sure would show the men in that organization who is in charge! Especially the one that can shoot really well and probably wants to shoot me. Oh, I would give him the hardest time!" And then she did become that! Or was she only daydreaming it?!
THE END!
Wow! Thanks, Grunion Guy! That really puts things in perspective. I think.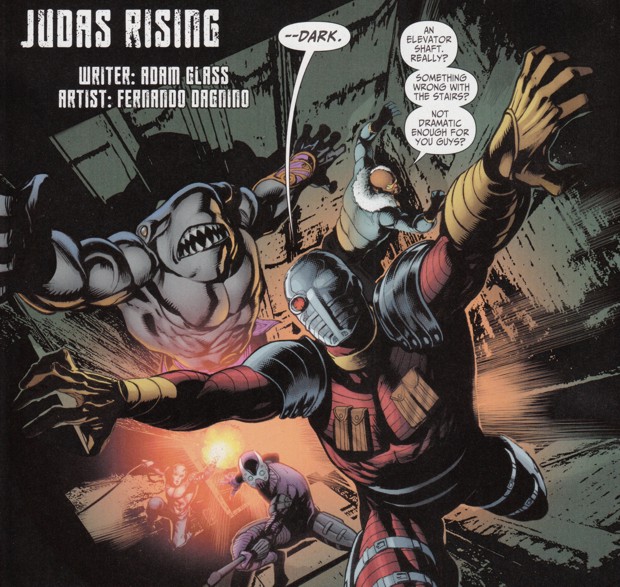 This comic must be about my cat, Judas!
The gang is currently climbing an elevator shaft presumably, if the cover is to be believed, in a building occupied by Basilisk. I once had a dream with a Cockatrice in it. I don't know if that means I'm a giant nerd or I secretly long for three dicks in me. The nerd interpretation is the literal interpretation and the dick interpretation is the Freud interpretation. I think Jung would say that I fear movement and momentum, continually making up excuses to remain standing my ground instead of taking risks to better myself. Or maybe I had just been playing too much Nethack the night before.
Is it okay if I begin calling the Suicide Squad "the gang"? It makes it sound a lot more fun. They're out solving mysteries together and trying to fuck each other every time they find themselves alone. So far only Harley and Deadshot have romantically sexually violated each other. And Harley compared her vagina to a clown car which is weird. Maybe she dreams of Cockatrices every night. I wonder if I'd dreamed of Medusa, I would have woken up turned to stone. Do people turned into statues by a Medusa retain the capability of thought? Or are they frozen in time until they can be cured by a healer, so that their last thought was looking at the Medusa? And once they are cured, can they remember what the Medusa looked like and turn to stone just from the memory? Since all of these things are completely fictional and made up, why am I even wondering what's true? I can make it all up! That's what science fiction writers do and people say they're smarty geniuses. But they're not! They're just spastics who constantly answer their own stupid questions!
One thing that makes me sad immediately is that Lime isn't on this mission. Also, Iceberg is wearing gloves but his gloves aren't turning to ice? Shouldn't that be a problem? I guess since it's the comic book world, his gloves are made from Uniceablium. Another thing that makes me sad is that Yo Yo isn't in the group anymore because he escaped out of King Shark's belly. Another thing that doesn't make me sad but that I'm thinking is this: do members of the Squad have to train in climbing up elevator shafts? They're all pretty good at it. Even the human shark man.
Harley Quinn is waiting for the gang at the top of the elevator shaft. Or should I say Dr. Harleen Quinzel since she has guns instead of a hilariously gigantic hammer?

Great! Instead of jocularity, we're now going to get second rate psychotherapy!
Second Rate Psychotherapy sounds like a good album name. And Jocularity would be the band. Or it could be Jockularity and all the members could be muscle bound football goons.
Oh, I probably don't have to mention this since if you're reading this you probably have working eyes but maybe you're blind and using a voice program to read my hilarious commentaries to yourself so let me say that the picture above sure is sexy time sexy! I know a lot of people out there can't stand the new Harley look. And I must say I'm a fan of the jester pajama wear that makes it look like she's naked under the outfit and at any moment she's just going to slip it off and crazy fuck the shit out of you but this new Harley ain't so bad either. One of the reasons some people like the old look is because it's understated and she isn't totally hanging out. But the fact that Harley's original look makes me hornier than this look means that people are fucking wrong in what they think is sexy and understated. People think DC went too far by making Harley super sexy in this near naked outfit. But this is far less sexy than no underwear pajama girl trying to fuck the Joker every chance she could get. You say tomato, I say tomato. Hmm, that doesn't work very well in writing. I almost typed "You say tomato, I say titties" but that just seemed too obvious and crass, so you should thank me that I spared you having to read it.

Oh look! I guess they're in Seattle!
Ha ha! Good one, Amanda! Bo Bo the Clown Girl. That's fucking hilarious but you had better hope the Gotham Union of Clown Crime doesn't get word of this insult. What if Harley were to call you Wal Wal the Negro Lady? Yeah, that's fucking messed up, right? Shit. You might as well call King Shark "Dolphin Lad" while you're at it! But even with this blatant clown prejudice, I can't help but squeal in giddy delight at the silhouette of the group running down the hall. I think that's going to replace my current Wonder Woman Eee! Tess Ate Chai Tea banner after I work on it a little.
Harley clues everyone into the mission. A generic Basilisk member has a conference room full of hostages at Gendreon. Gendreon? Okay. What the fuck does that company make? Cybernetic genitalia for the transgendered? Shit, that's a good idea!
Back at Belle Reve where Waller is leading the mission like she usually does except that one weird time last issue where she was off-base to help capture Mitch Shelley, Project Samsara is about to begin. What's with all the fancy code names? Just call it Project Jesus Fucking Christ. Oh, I guess that's a code name as well. Speaking of Sanskrit words, I went out for some Raspberry White Chocolate Mocha (oh, stop judging) this morning wearing my "Namaste Bitches" t-shirt. One of the Homeless with Bandanna Wearing Dogs that frequent Hawthorne was out early playing a Banjo. He asked me, "Does your shirt actually say that?" And since I knew what he meant by "that", I said, "Yeah." And he said, "What did the hippie say when he was asked to stop sleeping on the couch?" And I, being a socially awkward dolt who was just trying to hurry past and didn't think about anything, said, "What?" And he said, "Namaste," and laughed and laughed. But he didn't play the Banjo as he began to laugh which I think would have made for a better ending to the story. What a jerk! Ruining the ending of my story by not doing the dramatically appropriate thing.
Back in Seattle, the Gang's plan is to send Harley in with a fake pizza box from Jokerino Pizza (it must contain a giant boxing glove or one of those Jokey Smurf bombs). Instead of shooting Harley which really should be the first reaction of any gunman in this situation, he grabs a hostage (or teleports one into his arms according to the poorly done storyboarding) and threatens to kill the hostage if Harley comes any closer with that pizza. Harley doesn't come any closer with the pizza but Deadshot kills all of the hostages anyway. Wait a second. That sentence seemed confusing. Let me reread this. Let's see. Basilisk guy holding hostages. Harley entering. Basilisk guy threatens hostages. Deadshot kills hostages. Deadshot works for Suicide Squad and they don't give a shit about anything. Oh, there we go. Good plan, Deadshot!
Actually, Deadshot kills all of the hostages because "they have a worse record than" the Basilisk guy, Tyler Reese. I guess Gendreon is into worse stuff than remote control vaginas. Maybe Amanda's real plan was to have the hostages killed anyway which is why she didn't want Oliver Queen getting involved. He'd have a problem with business types being killed instead of simply brought to justice before a court of law at the great expense of tax payers while still avoiding all charges because of their high costing and high powered attorneys.

Here we go! Psychoanalyzation Powers Activate! Actually, she's just quoting the DSM-IV. But that's probably just the way she warms up her powers.
The Basilisk Agent has a bomb built into his chest that he's ready to blow up. But before he can yell, "Hail Basilisk!" and activate the detonator, Iceberg manages to yank off his Uniceabium Glove and freeze the Basilisk's bomb's circuitry or something. Oh, he doesn't just makes stuff cold. He literally turns things into ice. So he probably turned the bomb into an ice cube.
Black Spider recognizes this Basilisk Agent as one of the personal bodyguards for the leader of Basilisk, Regulus. Deadshot doubts Regulus even exists which forces Black Spider into a flashback episode.
Black Spider got his ass kicked by a guy named Death in the sewers of Gotham City. And then someone flushed a toilet and Death and Black Spider were washed away and lost each other. Then Black Spider found a bunch of dead super powered sewer dwellers called Swamp Angels. They were all dead. Black Spider uses this as proof that Regulus is real. It seems like a story about someone being real would include proof that the person in doubt was seen or met or something. This flashback was less meaningful than a Family Guy cutaway.
Meanwhile, back at Belle Reve…

The triumphant return of Yo Yo!
Yo Yo is, rightly, a little bit pissed since he's been living in a shark colon for a month. But Amanda tells Yo Yo that the whole thing was an experiment to test Yo Yo's power levels. And come to find out, Yo Yo is indestructible! Now, I don't know if this was actually Amanda's plan or not. In fact, I'd rather believe it wasn't because, as I've said elsewhere (Teen Titans, The Ravagers), I can't stand the comic cliche where every random thing was part of the plan. I would rather believe that Amanda is just thinking on her feet to survive this confrontation. And that makes Waller look better as well. Even more, it makes Yo Yo think he's indestructible when he may not be because this is just Waller survival bullshit.
Back in Seattle, Black Spider realizes Basilisk Tyler was just a diversion and he takes King Shark with him to find the real Basilisk Agents downloading information from the Gendreon Mainframe. They're stealing information on a project called Genesis. It has to do with regenerating dead tissue. Which, you know, Waller very much wants. Now, the question begins to crop up in my head (which it should have earlier but, you know, I'm easily distracted!): why does Waller want all of this technology to bring the dead back to life? I don't think she's intensely interested in becoming immortal. I think she either has someone in her past she wants to bring back or she has someone currently close to her who is dying. I think there was one issue where she talks to someone in her private life during some down time before the prison riot, but I can't quite remember and my comic books are inside the house while I lounge in the backyard. So I'll have to look into that later. Fuck I'm lazy. That's probably not a good sign for the success of my business!
And before Deadshot and the gang can bring Basilisk Tyler back to Belle Reve, Tyler dies from ingesting poison. Someone slipped him some cyanide. Amanda takes it in stride and declares to Yo Yo that Task Force X has been infiltrated and there is a traitor amongst them. Who the fuck could it be? (Deadshot. It's Deadshot.)
Suicide Squad #10 Rating: +1 Ranking. Yay for Suicide Squad! It's fun and mayhem just like it's supposed to be! And they have a member that lived in a Shark Colon for a month! That's got to be worth something!