Yay for Mr. Bones! I still don't know if he's retained his Cyanide Touch or if that power was just forgotten over time.
Issue #10 begins with Blue Beetle already captured by the Department of Extranormal Operations. Did I get that right? Anyway, Mr. Bones runs the DEO and since Blue Beetle has been the subject of numerous news reports that make it look like he's nothing but trouble, Mr. Bones has apparently captured him. I'm sure we'll get a 24 hours earlier flashback at some point to show how Beetle ended up "in the clutches of Mr. Bones!" Until then, I'll just enjoy Jaime being tortured.

Ten issues in and I still find Ted Kord's head on Jaime's Blue Beetle amusing.

Yes he did! In the pages of Infinity, Inc. Want to read comic book that has more disasters than a run of Justice League International? Pick up Infinity Inc sometime!
Seven hours earlier, Blue Beetle was using the enormous power of the Reach Bugsuit to forage for food in a New York City dumpster. Once Jaime realizes he can't keep living like a Super Heroic Bum on the streets, he decides to check out the DEO since that's where Green Lantern dumped the Cat-eating Assassin. Green Lantern also told him not to trust anybody which was pretty good advice. If Green Lantern knew Blue Beetle was going to head to the DEO, I'm sure Kyle would have said to especially not trust that cigar-smoking, invisible-skinned bastard that runs the place.
Meanwhile, Jaime's dad calls up Jaime's grandmother who lives in New York to see if she can help locate him. She's a mean old lady who tells Jaime's dad that she'll find him and be his guardian angel. I have a feeling she's going to go toe to toe with Mr. Bones and win. Plus, maybe Jaime and his stubborn, brain-damaged Scarab will actually be able to confide in Grandma Conchi! It would be nice for him to have a sort of stable headquarters, even if it smells like old woman and is covered in lace doilies and hard candies.
Back at DEO Headquarters, Blue Beetle walks right in and requests a meeting with the boss. He's detained and taken to detention level where other aliens have been quarantined. One of them is the alien Assassin and he blows Beetle's cover by declaring that he's a Scarab Soldier from The Reach. This causes some alarm in the guards.

And then he's captured and shoved in the torture device seen at the beginning of the comic! Ta da!
Once fully contained, Mr. Bones begins the interrogation.

Fuck you, DC! I'm keeping Ted Kord alive! Bwa ha ha ha!
During the interrogation, Jaime spouts some Mexican slang and Mr. Bones realizes Blue Beetle might not be an alien after all. He hints around about offering Jaime a job if he'll just reveal his true nature. But the Scarab never likes that and Blue Beetle breaks free. He manages to kill the power to the building and escape. Mr. Bones doesn't bother chasing him. He realizes Jaime is not a threat. But he still plans on checking him out at a later date and with a different plan.
And then the scene moves to the offices of Superfail.com. They're the ones that keep, somehow, getting video footage of every single thing Blue Beetle has done that could be taken out of context. They can't wait to make him the face of super villain terrorism because he looks like a bug and everyone hates bugs. Am I the only one that doesn't actually think he looks like a bug? Anyway, while they're having their meeting, the most amazing moment yet happens during this meeting.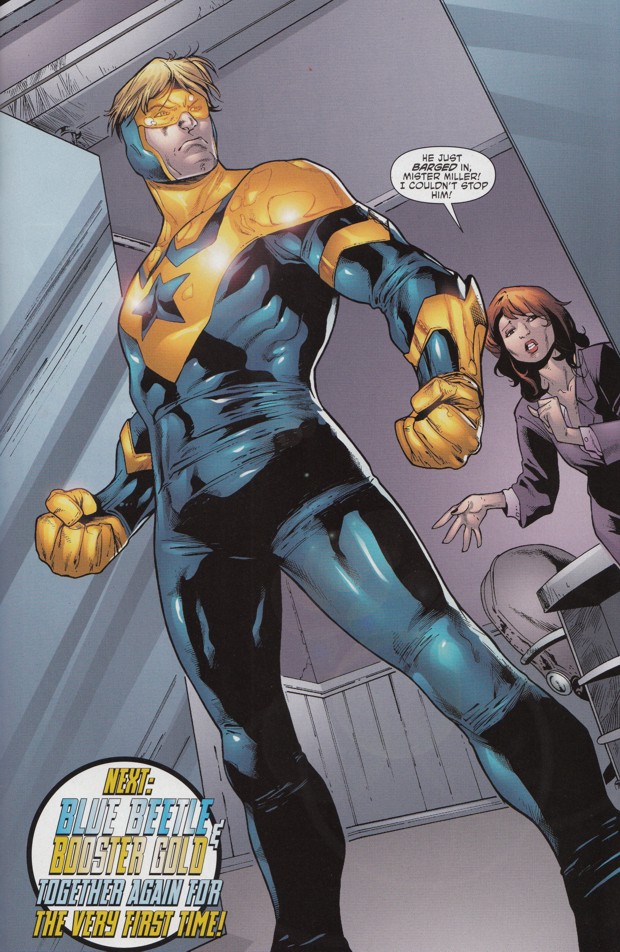 I shit you not, I'm tearing up thinking about the first picture I scan next issue that will have Booster Gold in the same shot as a photoshopped Ted Kord face. God I miss that friendship.
Blue Beetle #10 Rating: +1 Ranking. A little bit more serious this issue than usual but that's okay. It's still kept light and fun and doesn't get too heavy. I do hope that Beetle is able to let his grandmother know about the whole super hero thing. Especially since he doesn't really need a mentor (which he finally realizes in this issue). What he really needs is someone to talk to with whom he can share his secret. I think Grandma Conchi fits that bill. Although Booster Gold may end being his mentor which will be both awesome and incredibly sad all at the same time.