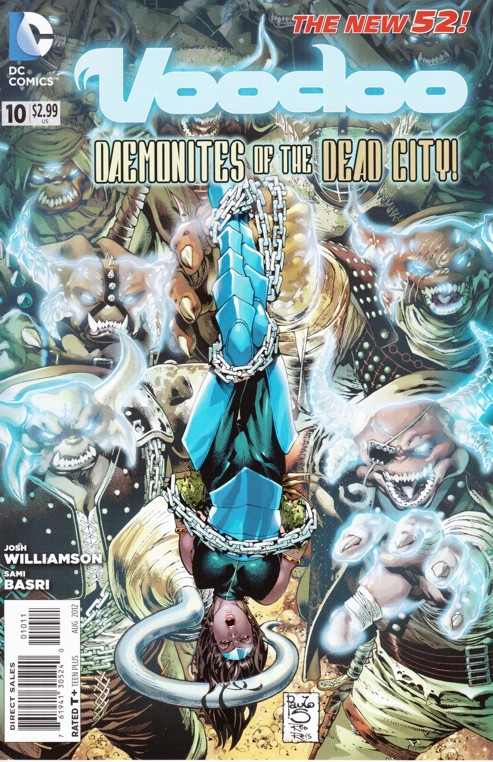 Daemonite Reavers!
I just reread my commentary on Voodoo #9 and holy shit I was harsh! Not that Josh Williamson doesn't deserve harsh. The editors at DC seemed to decide he had a great idea to bring readers to this book and he just destroyed any flow the series had. The book was kind of unsure of itself the first few issues but it wasn't a bad title. That's why it's currently ranked at 36. It was an average comic which has been plummeting down the ranks since Williamson decided to blow up the plot and start completely over. But I was pretty judgmental with the Wildstorm Universe (which, again, I know nothing about) and on Tumblr, no less! I'm surprised I didn't create some kind of cosmic rift.
Tumblr: We love everyone! Everyone is worthy of love!
Me: Wildstorm is shitty shitsville and its fans have no taste!
Tumblr: OH NO YOU FUCKIN' DIDN'T!
Universe: *CRACK*
I actually wasn't that harsh. I was being whimsical like most of my posts! It's just drunk whimsical comes across as mean-spirited, I guess! Anyway, the cover on this Voodoo actually makes this issue look good! And one of my readers, Donnymuppetmeat, said, "Voodoo is the only DC title worth reading" so maybe I should remember that while reading Voodoo!
Okay! I'm ready to read Europaean Vacation! Man, that's what they should have titled this issue! "Holiday Ro-o-o-o-o-o-o-o-o-oad! Holiday Ro-o-o-o-o-o-oad!"
This issue begins with Voodoo already on Europa. Some creatures that live in the Dead City of the Daemonites are already fighting over her ship while she investigates the landscape.

This looks familiar! Hmm. Voodoo. Froodoo. Frodo! Is she in Moordoor?
While wondering how she's going to get past this encampment, she triggers a trap.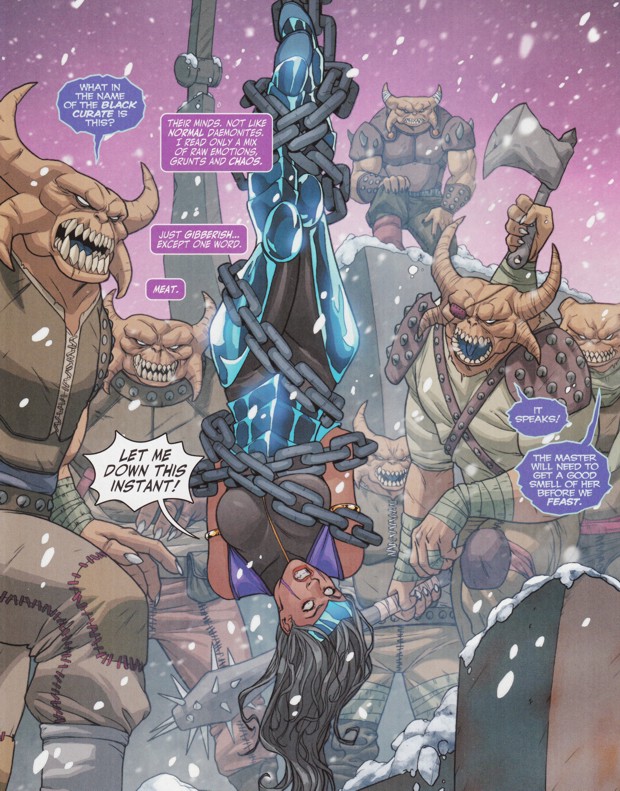 One does not simply walk into Moordoor.
Meanwhile, Pris and Lincoln and some Black Razor Red Shirts are flying through space toward Europa. I'm enjoying the best comic DC publishes so much that I avoid scanning the picture of the ship flying through space going, "ZOOMWOOSH!" Because everybody knows that ZOOMWOOSH is the sound effect of a ship flying through a nitrogen/oxygen atmosphere and not the vacuum of space! Sheesh.
I think I'll name the Red Shirt Black Razors flying with Voodoo before they're killed by the Orc Daemonites.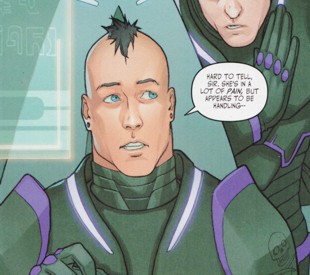 This is Mohawx. Unless it's actually Alex Walker. I forget what he looks like. This is probably Alex Walker.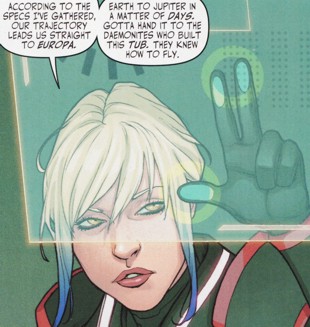 I dub her, Tripoli! Unless she's Alex Walker! Maybe she's Alex Walker!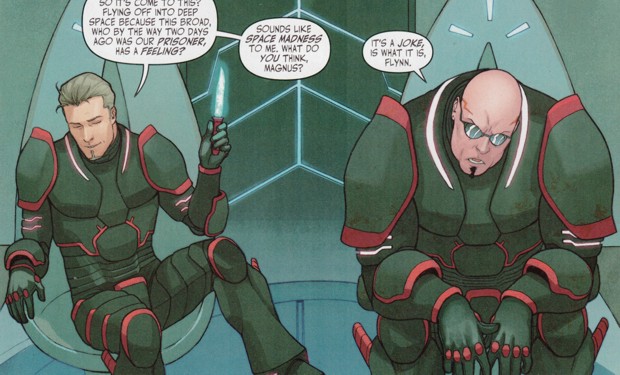 This was going to be Young Lincoln and Soulpatch until they identified themselves as Flynn and Magnus. I wish the Blackhawks were the back-up crew.
While the Black Razors crew fools around the way the Black Hawks crew never would have, Pris is knocked unconscious and the ship goes out of control! Oh no! Look out! You're going to crash into…um…well, something. Eventually. Possibly.
Back on Europa, Voodoo finds herself in a bit of a Bilbo's dwarves' scrape as the Troll Daemonites consider how they're going to eat her. But she doesn't need a burglar to help her out of her frying pan. Or was this part the fire? Anyhow, she uses her shapeshifting powers to get free. And then Mol Stone, the leader, arrives! Voodoo actually manages to talk her way out of this instead of resorting to evisceration.

Every thing has been too easy for Voodoo. She should be thankful she's not the Justice League International.
After convincing the Orc Daemonites that she was sent by Helspont, they lead her to the weapon. She takes it and destroys the Earth. The end!
No, no. It's something altogether unexpected.
Meanwhile, Pris's ship crashes into Europa. Or it kind of lands since Pris wakes up at the last second to command the ship to land. But she actually wakes up at the first second after it's too late to land safely! So they crash!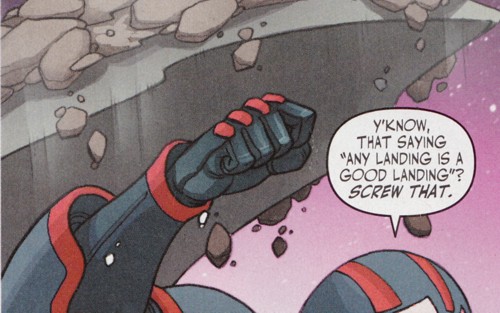 I don't know that saying. I think you're missing an important part of the actual saying, dumbass.
The Black Razors find themselves surrounded by Orc Daemonites when they exit their ship. And Pris is too spent from piloting the ship to help them defend themselves. I want to say two of them will die in the upcoming fight but I bet none of them will. Lincoln can't die because no editor is going to give Josh Williamson that authority. The white haired woman won't die because she's the only non-alien woman. Alex Walker won't die because I think he's probably important and possibly from somewhere else. Magnus and Flynn won't die because they're the hilarious sassy underlings who disrespect authority. Williamson gave them all just enough personality that he isn't going to be willing to kill his creations. Unlike how he simply and easily killed Marz's characters.
Voodoo heads off with Mol Stone and I finally find a character I can like in this comic book!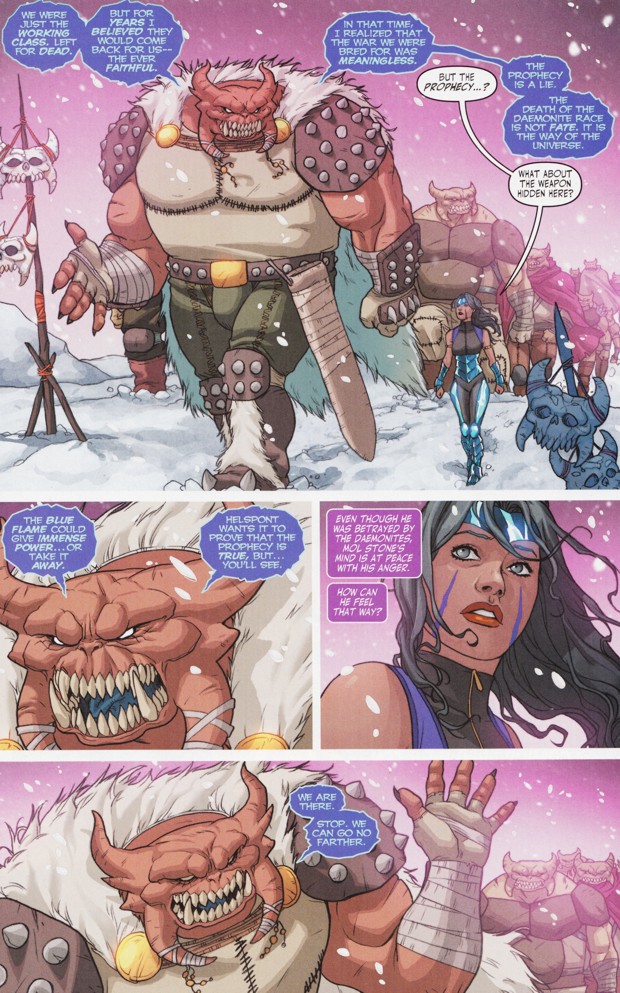 I hope Mol Stone sticks around.
Mol Stone brings Voodoo to an archway in a cliff guarded by a couple of giant stone centurions. I guess the Romans colonized Europa too! They probably built some damn fine roads out toward Jupiter. The centurions rip apart any Daemonite trying to enter. Supposedly, only someone chosen by destiny can enter. Voodoo believes Helspont when he told her she was chosen by destiny, so she calmly marches forward to find the Blue Flame.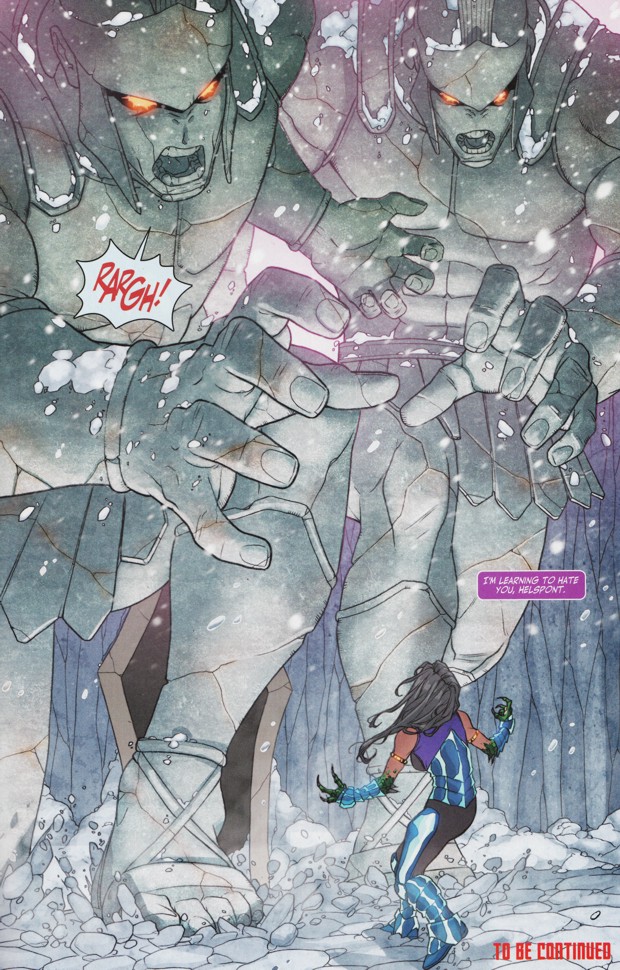 Ha ha! Remember, Helspont said you were chosen by "desitny," stupid!
Voodoo #10 Rating: No change. What the fuck? No change! I actually enjoyed this issue. That's because I read it like it was the only comic book worth reading and how can you hate a comic book that is the only comic book worth reading? In fact, I hated Snyder's Batman a little bit while reading this comic because it was just another Batman story! Why can't a Batman story not feature Batman?! That's what I want to know!
No, really, this issue wasn't bad. Nothing great about it though. And I finally like a character in Voodoo. Also, if Williamson just continues marching forward with what he's doing now, this book could work. Just forget the past, forget the atrocities Williamson committed, forget that Voodoo had a totally different personality, and maybe I can try again.