Where the hell did Detritus come from? Who is he? What was my name?
Of course I actually remember Detritus. He's the guy Lobdell thought was such an awesome idea for a super villain that he had to put it in an early issue so that nobody would steal the idea. But he wasn't ready to use him in an issue so he made everybody forget everything about him. And now he's back! Except he forgot which comic he was supposed to be in, having been introduced in Teen Titans.
At the end of the last issue Superboy was in which was Teen Titans #10, he had escaped from The Mysteriously Mysterious Mystery Island of Mysteriously Mysterious Mysteries. Nobody every figured out what was going on with the place. Nobody knows why they landed there or why dinosaurs were there or why it had a top side of the island and an upside down bottom side of the island. It was very much like a story arc from DC in the 1960s where continuity didn't really matter very much. Which isn't a bad thing. But that was an age when people didn't really care that Batman suddenly didn't think about Catwoman after she grabbed his balls a month later. Now they expect him to obsess over it issue after issue. Right? Anyway, it's probably better that Lobdell doesn't explain the mystery. That way, Morrison or Milligan or Giffen or some other writer can actually use the island in a later story and actually make it interesting. My guess is the island has something to do with the Doom Patrol. And Danny somehow brought them to it while they were escaping NOWHERE Headquarters which is why they needed him to bring them back home.
So Superboy and Bunker are hanging out in Superboy's new apartment. His new apartment is some rich lady's storage unit. And by storage unit, I think Superboy means mansion. He can afford to rent a place like this because he's just recently come into some money.

I know I've linked to this before but I just love it: Borrowed? Without asking?!
I will readily accept Superboy needing money and going out and taking it from a bank. He's just a clone new to the world and shouldn't really have a very defined concept of ethics. Hell, he shouldn't have a defined concept of anything! But it wouldn't be a very exciting comic if he had the mentality of an infant. Actually, as soon as I started typing that sentence, I knew I believed the exact opposite! I'd rather read about Superboy with the body of a teen and the mind of a baby.
Superboy is a bank robber. Big deal! He'll eventually give it back and everyone will have a good laugh about it. In the meantime, Bunker can deal with the ulcer this gives him. Bunker chooses to just forget about Superboy's ethical transgressions because Bunker enjoys looking at him.

"A big hard cock?"
They wander about New York for a while discussing some of the things Superboy has learned. Like he learned that Supergirl likes to hit first and hit again later and then maybe throw a few more punches after asking questions. She's mean! He also explains how the "S" is the only thing he really feels he owns. That's kind of sad since it's a stolen symbol! But I guess (I think?) Superboy's DNA is stolen from Superman anyway. But if that's true, why does Superboy have Telekinetic powers? Where did that come from? My guess is he has Superman DNA, Lex Luthor DNA, and some third, unrevealed person's DNA as well.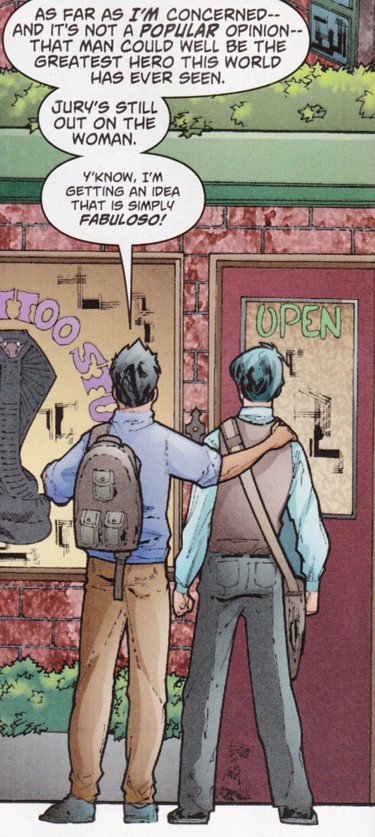 Matching nipple rings?
Oh, no. They're just getting tattoos.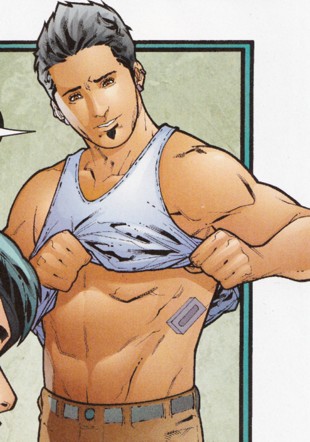 Bunker opts for a Pez tattoo.
While Superboy opts for a tattoo sported by roughly 2.5 million people.

Bunker just jizzed in his pants. And who can blame him?! Just look at that bicep!
So far, this is the best issue of Superboy Lobdell has written. But then it's scripted by DeFalco. I don't know what that means exactly. Normally if you add one piece of dog shit to another piece of dog shit, you just get a bigger pile of dog shit. But this issue is working so far! I'm just waiting to see how they screw the entire thing up before it's over.
I should probably mention that the tattoo parlor is an obvious front for Kobra. Hopefully that means that the tattoo ink will later turn Bunker and Superboy into Kobra Followers and they'll beat up Wonder Girl some more.
Some kind of ruckus causes these two besties to change into costume. Not that Superboy really wants to play the hero. He just wants to be a normal boy!

Normal people don't use their telekinetic powers to rob banks in the middle of the night. Also, using "big bad" does not make your characters sound young. It makes your characters sound like Joss Whedon rip-offs.
You'll never guess who the cause of the ruckus is! No, it's not Lex Luthor! Nope, not the Joker! Let me spoil it for you: it's Detritus! Yep! Totally! Except he's gained thirty or forty stories since he last appeared. See? This is what happens when you don't recycle, people! The land fills become sustenance for giant, autonomous, intelligent junk robots! Fuckers.
Superboy knocks Detritus down while Bunker rescues the innocent bystanders.


So is the truck driver! Go Bunker!
The action scene with Superboy, Bunker, and Detritus is actually enjoyable. Except for the part where Detritus monologues his (sort of) origin story. Why so mouthy, robot? Just go about your business absorbing people's minds and sticking their junk to your body. I bet if he had wandered into Portland, he'd have Portlandia (the statue, not the show) stuck on its head and a giant bird on it.
I'm going to describe how the battle ends because I find it kind of lazy of Lobdell and DeFalco. Superboy telekinesisses the outer shell of Detritus away so that only the actual creature remains (which is still a robot but smaller). It then describes how lonely it is being the only one of its kind and it shares a moment with Superboy. Aww. How cute and sweet. They're bonding. So Bunker and Superboy wonder what they should do with it since it can still be a danger even if it becomes their friend. But all of that is just going to get too complicated, so Lobdell makes it attack Superboy again! So Superboy punches it into the river (Bunker says he punches it into a million pieces but since it still has a humanoid shape as it falls into the water, I think he's exaggerating). They shrug their shoulders and decide it's defeated for today and somebody else's problem tomorrow. Let's go home!
Superboy #11 Rating: +1 ranking. This ranking is based on a curve! Superboy has been so bad across so many issues that this one really shines in comparison. Superboy and Bunker had some enjoyable moments together. Plus, they have tattoos that are going to turn them into Kobra henchmen someday! Yay! Superboy and Bunker: Best Friends Forever!

Until it squirts?