I want to know the secret of Superman's lower torso. No, not that secret! Look how fucked up it is on this cover!
Superman is a jerk. Last issue, Anguish stole a locket from the bank and Superman trashed downtown Metropolis trying to stop her. Even if she had stolen more than that, what's the point in endangering everyone downtown, smashing buildings, and destroying the streets?
I keep complaining about the plots where some charismatic person rallies the citizens against the superheroes. But then the writers do shit like this and I fucking have to agree with the charismatic troublemakers! I think Superman's motto is "Justice at any cost!"
And then Superman destroys a suburban neighborhood while saving the family of the man everyone thinks is his secret identity. Perhaps Superman needs to learn to take a moment to think through the repercussions of his actions. He's definitely not acting noble or honorable right now. I think he's a little bit too far up his own ass to think clearly. He's doing anything to save the day so that Clark Kent can write a glowing article about how incredible Superman is and how the people of Metropolis should be thankful to have him before he decides to move to Oakland or San Francisco.
And now this issue, we get to learn about his suit! Oh joy! Just imagine a teenager walking through the comic book store looking for a cover to grab his attention and scream, "This is the comic you've been waiting for!" Now imagine him walking right past this comic and picking up the Alice in Wonderland comic where Alice has giant breasts and a short skirt. I don't mean to suggest that Superman needs giant breasts and a short skirt! But I do think another Superman comic book about his clothing isn't going to attract anyone except me and a few haberdashers.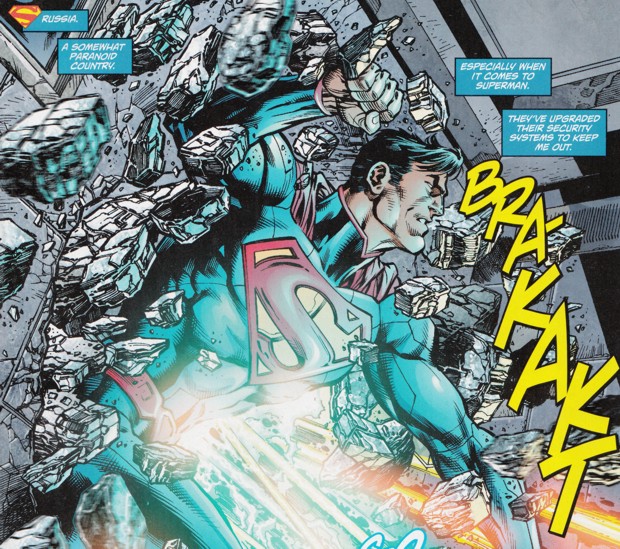 The fascist bullyboy at work.
So after bitching about Superman being an asshole, this is how this issue begins. Those narration boxes might have some kind of meaning if Superman wasn't currently busting through the wall of some Russian Facility. Looks to me like they aren't paranoid at all. They were simply preparing for the inevitable. You know they just sighed as Superman pounded down the wall to their installation and said, "Ну вот, опять."
Superman might have a good reason for breaking in on the Russians. I should probably continue reading this Dan Jurgen's Superman story from 1988 before jumping to any conclusions.
Superman has broken into the lab where all the scientists were slaughtered at the end of last issue. I don't know why Superman has come here to investigate. Perhaps his super hearing picked up the screams of the scientists as they said, "It is a pity that it has been said about Superman!" That's "Too bad we didn't tell Superman about this!" translated to Russian then Italian than Finnish and back to English. My assumption is that's how accurately Superman's Universal Translator translates everything into Kryptonian. Oh, and since Superman doesn't know Kryptonian, back into English.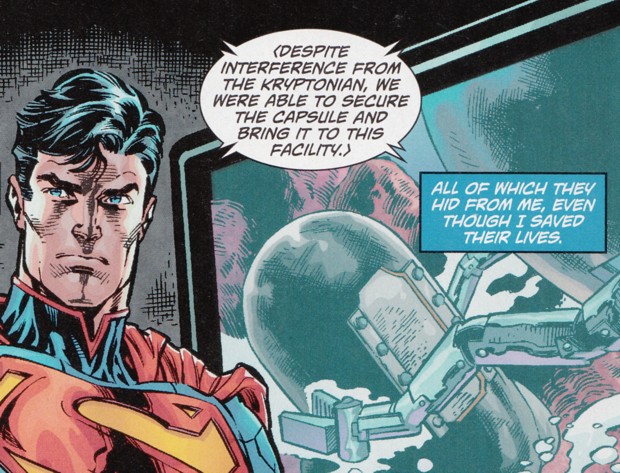 "Oh thank you Superman! We now owe you everything! Here, let us suck your Kryptonian dick while fingering your asshole! Mmm! Mmm! Mm muph mu, Mupermam!"
A security officer catches Superman watching the security footage of the incident. He yells, "Stop it!" and it sends Superman into a flashback of a double date with Lois earlier in the night. It was actually a blind date with Superman set up with Lois's sister, Lucy. Lois was dating the douchebag Clark met in Issue one when the jerk answered Lois's door wearing only a towel.
At dinner, Lucy tries to get Clark to go bungee jumping with her and she hints that he might be afraid. He reacts by thinking, "Afraid?!" And then:

Clark Kent should show some trepidation towards the idea of bungee jumping. His secret identity only goes as far as people could never believe Clark Kent could be Superman. Just like Playboy Bruce Wayne keeps getting handled as if he should somehow be more caring in his secret identity. These modern comics with their newfangled takes on old fashioned ideas! Bah!
Everyone on the date is a field reporter except for Lois's sister. And they all get incoming messages on a disaster in Russia at the same time. I'm not sure why they all need to rush off (except for Clark!) to somehow get the scoop on a story in Russia, but run off they do!

Responsible journalism means paying the check before you run off to get your stupid scoop in Russia.
Back to the present, the Russian Guards and Superman have a short conversation in Russian. According to Superman's Universal Translation, the conversation went something like this:
Guard #1: "Stop it!"
Guard #2: "He is a murderess! Shoot him!"
Superman: "Not me, guys. You will be caught in the ocean."
Superman: "Now remove the toys, so you can solve this problem."
Guard #1: "The melting point?"
When the guns and the bad translations don't solve the problem, Ivan the Security Guy calms everyone down and tells Superman what's going on in English.

Could they have found the fascist Superman from the parallel Earth in Action Comics?
Superman tracks the creature to a small town near a nuclear reactor. All of the military personnel sent after the creature have been killed. All of the civilians in town are dead. Even all the pets have been murdered! And then the creature begins beating up Superman! What kind of alien lifeform could manage this?!

Remember how I joked about this story being from 1988? Nailed it!
I was also just lamenting the loss of DC's invented alien font and now Predator shows up speaking Old Portugese [sic]! Except he speaks a dialect where the letters are all reversed and he speaks back to front. Predator is saying, "Garters and stars." Perhaps he's looking for some sex kitten starlets?
Why has Superman retained the use of the New 52 Alien font when it has always been the worst at it. It would be nice if the creatures actually said things that related to the story instead of vomiting nonsense in cryptic letters. So far the letterer of Superman has used this font to say things like "This is gibberish" and "bazinga." So I'm really looking forward to more of this inane blathering coming from the mouth of the Predator!
The Predator says, "Tommyrot," just before throwing some device on Superman which short circuits Superman and his suit. It's possible it might also allow the Predator to control Superman since Superman's last thought was that it was a kind of wireless device waiting for transmissions to tell it what to do.

I think the Editor's Note at the end is less about Superman being dead so they won't have another issue and more about DC pulling the plug on this comic.
Predator has just taken out Superman so you'd think he probably has something pretty amazing to say, right? Let's find out together!
Predator: "Bazinga." [Oh just fucking kill me now]
Predator: "Bippity boppity boo." [This stuff should have been used in the movie!]
Predator: "Waheela!!!"
Superman #11 Rating: -2 Ranking. I will not stand for the Predator taking out Superman and then hollering, "Bazinga!" Fucking cunts. I wonder if Jurgens was running late on producing a script and he just dug out his script for a Predator/Superman proposal that DC passed on. One thing that was nice about this issue was that the cover didn't spoil the surprise! Which is really fucking weird considering a cover with Superman versus the Predator would get the exact opposite reaction from the teenaged boy I imagined earlier. Well, it would have 20 years ago! And I should be pissed by the bait and switch, right?
Haberdasher #1: "What the fuck?! One page about Superman's suit forming from nanites when he needs to don it? And that's it? The rest is…what is this? Predator? Go copulate yourself, DC!"
Haberdasher #2: "Right on, my brother!"
Me: "Come on, guys. Can you finish describing what your characters are wearing so we can begin the adventure into White Plume Mountain?"