If you're in a hurry, here's a quick synopsis of my commentary: "Dinosaurs! What a bunch of fucking idiots! J.T. Krul sucks! Cunts!" Time saved!
Remember last issue when Ash and Elliot fought some dinosaurs? And the issue before that, Ash and Elliot fought some dinosaurs. And the premier issue was exciting and fantastic because Ash and Elliot fought some dinosaurs! Boy, I sure hope they fight more dinosaurs this issue!
Oh yeah! But first we have to have the flashback where we learn a little something about our heroes! Characterization happens in flashbacks! Fighting smoke monsters dinosaurs happens in the present!

First rule of Gay Army Orgy Club: Don't talk about Gay Army Orgy Club.
As the two of them discuss what just happened, Ash calls his wife Ashley. Now I'm confused. Maybe Ash isn't really named Ash! Maybe I read the earlier issues wrong. Perhaps I was so excited to get to the dinosaurs that my reading comprehension went out the window. Because that's just weird if they're Ash and Ashley. Or maybe it's supposed to be cute. Or both since half the time, weird and cute go hand in hand. Like Elliot and Ash tromping through the Jurassic Jungle!
You might be surprised to find that what happened was a barroom brawl and not a gay orgy. No, really! And it was apparently started by some other guy who just had to challenge Elliot because he was the blackest biggest guy in the room! And of course, Ash and Elliot had to defend themselves by beating up the bartender as well as everyone else, right? That's why I think my struck out "blackest" was the actual reason for the brawl. These two probably like trolling racist bars so they can get their adrenaline rush beating on ignoramuses.
Uh oh! I just judged people for being racist! I'll probably lose some Tumblr followers for the harsh judging.
Anyway, Ash was all, "I love you buddy even though this was a bar fight and not a gay orgy!" and Elliot was, "Dildo brother!" And Ash was all spitting beer and shit and going, "Did you just say 'Dildo, brother'?" And Elliot stops and cocks his head to the side and goes, "Oh shit! I meant ditto!" And when Elliot clarifies what he meant, Ash secretly slips the dildo back in his pocket because he realizes Elliot didn't really want it right now.
Long story less long: these two got each others' backs! And now cut to the present (can I say present when there are dinosaurs everywhere?):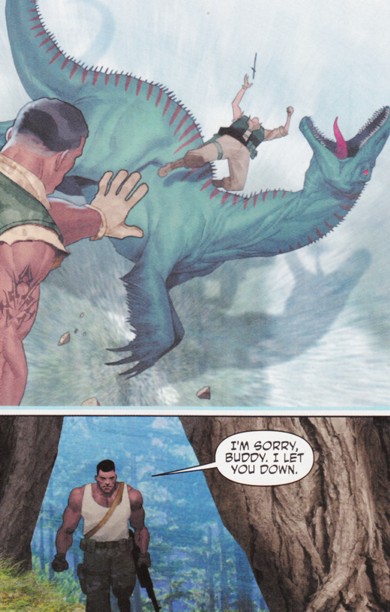 Ha ha! Let him down! Ha ha ha!
Elliot marches off into the jungle to face off with a bunch of dinosaurs. It's super exciting!

Too bad he doesn't have a saddle!

Oh no! Troublemakers!


The chase!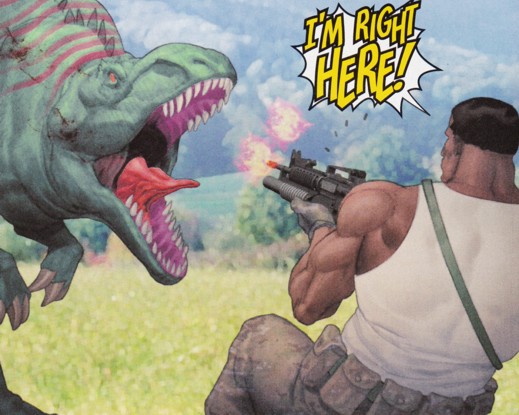 Stand and fight!

Elliot triumphant!
If it seems like I'm not trying very hard, it's just that I'm reflecting the style of the writing. Oops! I called Elliot's triumph too soon!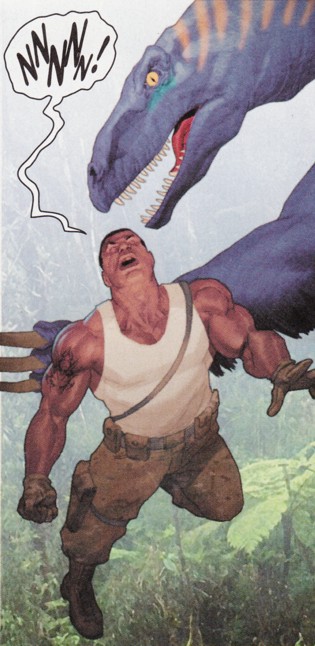 Snickety snickt, motherfucker!
Since Elliot is now out of ammunition, the only choice he has left is to go hand to hand with this dinosaur. I'm guessing a Figure Four will immobilize this bitch.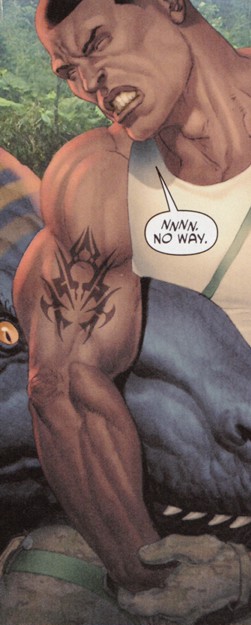 Oh, the Sleeper Hold would have been my second option.
Elliot manages to hop on the dinosaurs back and choke it to death with a garrote. Yes. He manages to asphyxiate the dinosaur as if it didn't have heavy muscles in its neck. And I get the flashback was to tell us how strong this bastard was but I have my doubts he could strangle a dinosaur. And I'm not an Anthropomorphologist but don't dinosaurs breathe through gills in their assholes? Isn't that what the Bible says?
As Elliot sits and wishes he knew that he were in a comic book so that he'd know Stevens is still alive, he gets a static-filled radio message about the beach and safety. He sprints toward the beach and finds his ship!

Whoops!
One raft remains with a couple of sailors. Elliot hops on board, tells them the land is worse than what he just saw in the water (I don't know about that!), and they speed off across the ocean. But what about Stevens?! What has become of him?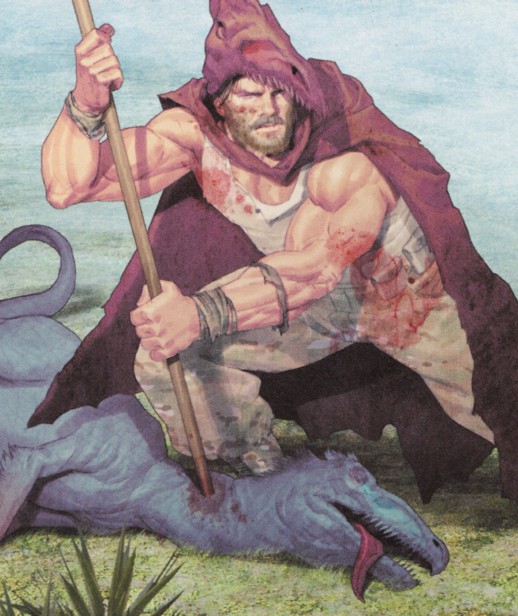 Of course, he's already adapted and become super caveman.
The next story is the Unknown Super Soldier, so I'll keep it extremely brief.
The man U.S. caught last issue has just had all of his memories downloaded into U.S. Now he knows the plan and the faces of the white youths that will detonate a biological weapon in the New York City subway system. Since he's now a super soldier, stopping any terrorist threat will be easy. But how will he get around the problem of punching a teenaged girl in the face in a big crowd in New York? Well, since he can disguise himself as anyone, it really isn't much of a problem is it? Just disguise yourself as another teenaged girl and people won't break up the fight; they'll just film it to upload on Youtube.
Oh, well, it actually doesn't matter. With the intel, Homeland Security moves in and arrests all of the young white terrorists. It's a total win by page three! But U.S. has now disguised himself as Zaari the terrorist mastermind. He's going to attend the subway attack viewing party in Dubai with a bunch of other terrorists. I wonder if they got Subway to cater? That would be sweet. When you cut into a sandwich, a puff of red pepper sprays out! Everyone would laugh and choke and then die.
At the terrorist meet and greet, Unknown Soldier finds out that an hour after the subway attacks, the Red Jihad will be unleashed on American Embassies all throughout the Middle East and southern Asia. Which means he has to start killing the guests so that he can alert the proper authorities in time to save some lives!
The next few pages have U.S. killing dozens of men and saving the world. Or something. But then he dies. But only technically. His body shuts down or something as they operate on him and he regenerates. He has a dream that seems to suggest that he didn't actually have a family that was killed and possibly he is simply a clone implanted with false memories. The comic ends with U.S. and his handler, Komal, opening a door to some secret lab. Whatever U.S. sees shocks him. But that won't be until next issue.
Hmm. That wasn't as brief as I thought it would be.
I'll say this for Unknown Soldier: it's getting better. About half of it was just a stupid one man versus an army fight scene. But his character background could prove more exciting than the rest of the pulp.
G.I. Combat #4 Rating: No change. Unknown Soldier is getting better and the dinosaur story wasn't horrible. It wasn't good either! It's just a story to allow the artist to draw a bunch of dinosaurs!