I would like to see Liefeld's pencils just to see how much work Liefeld puts into his covers and how much work is done by the inker.
Last issue was silly and ridiculous. And not in the good way that I wish more of the New 52 comics would be silly and ridiculous. The issue took its plot far too seriously while Grifter flirted with Deathblow and then was betrayed by Niko. You can really tell Liefeld isn't planning this comic more than one page ahead at any one time. I'm sure as he was plotting page fifteen of last issue, he suddenly thought, "Hey! That would be a pretty major twist if Niko was the mole Grifter suspected was in the group!" It doesn't matter if it doesn't make any sense and all of her actions before she shoots Grifter are totally out of character for a mole. Perhaps she'll explain in this issue why she couldn't help take Grifter out when he was being attacked by Daemonites the four or five times since she began running around with him.
Before I begin to read the comic, let me just point out how Frank Tieri's name was left off of the cover. He's doing the dialogue so I'd expect his name to be pretty high up there in the credits.
This issue opens with the Daemonites beating the shit out of Grifter. They also insult him as they throw him into his cell, saying he was supposed to be the savior but he's really just nothing.

Is that what THEY say? Or is that simply what Cool Hand Luke said? That may have been my mom's favorite movie. Or maybe she just loved everything Robert Redford Paul Newman was in.
Outside of Grifter's cell, Helspont holds a meeting with Synge and Niko. Apparently the Daemonites are about to invade Earth and take over. Possibly because Grifter is now out of the way? Helspont speaks as if it was somehow his doing that the Daemonite invasion was now possible. But then Helspont plans on destroying the Daemonites afterward and taking over himself. But then he makes a critical Super Villain blunder!

You have prophecies warning you about this guy! He's called the Chosen One. He spells your doom! Just fucking eject him into space. Gas him! Leave him in the cell to starve. But you do not want to meet him!
Grifter and Deathblow get brought before Helspont. Grifter finds the whole thing amusing because he's been playing the long con the whole time! He knew Niko was the mole because she has a tell! Every time he mentioned the mole she would look down. That's how he knew she was the mole! I'm pretty sure it just means she probably has an irrational fear of voles. So when someone says, "Mole!", she's going to look down around her feet because I think mole's don't have wings.
Since Grifter knew she was the mole, he got himself caught by her on purpose. Because he knew when she shot him she wasn't going to shoot to kill, right? He also knew that once he was captured, they wouldn't just execute him or throw him into space, right? Right! Because Super Villains are a predictable, stupid, probably superstitious lot! He knew whoever was in charge was going to want to gloat right in his face!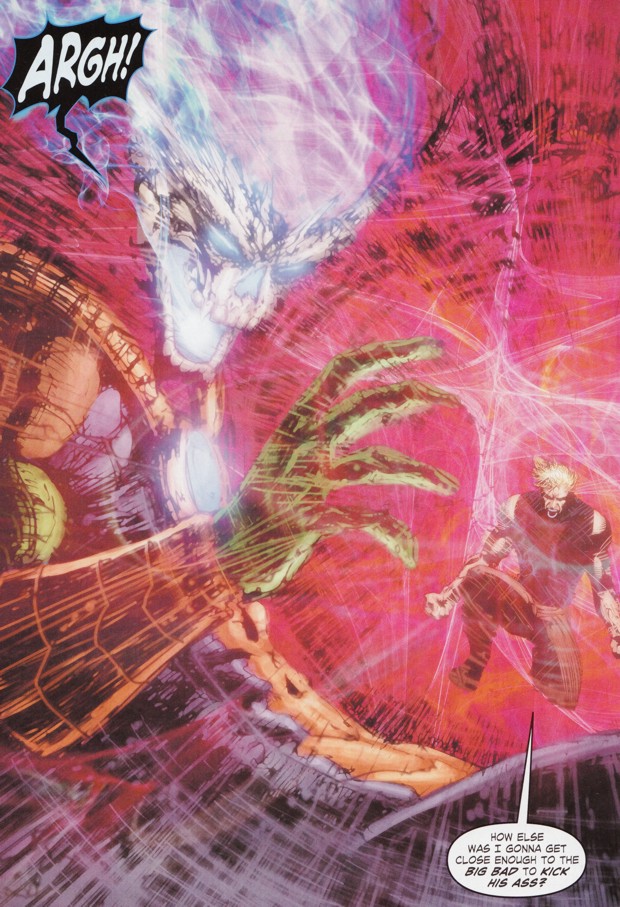 I bet Joss Whedon wishes he could earn royalties every time some hack uses the term "big bad."
Grifter way too easily throws Synge out of the way and defeats Helspont. Deathblow rigs Helspont's ship to blow up and they skeedaddle in an escape pod just as a giant explosion rocks the ship. But even though Grifter can read everyone like a book and was "playing them like violins," he apparently isn't as good as he thought.

Is everyone going to constantly be one step ahead of everyone else in this comic book? Next issue, will letting Helspont think Grifter didn't know it was a ruse be part of the plan? And will Grfiter knowing that Helspont knew that Grifter would know that Helsont's ruse was a ruse be part of Helspont's plan? Or will that be part of Grifter's plan? Can Liefeld just simply not decide on which character he wants to be the smartest?
Grifter #12 Rating: No change. I'm really sick and tired of plans. Everybody in the New 52 has a really complicated plan! And most everybody has a plan that involves failing so they can say, "That was just part of my plan!" and not look stupid when they've had their faces bashed in. Maybe I'm just starting to appreciate Justice League International since they never had any plans ever! I just wish more plots developed organically rather than so many poorly contrived contrivances!