Dick Grayson's wet dream. I wonder if Dick Grayson finds Pippi Longstocking sexy?
Dear Diary:
It's me again! Babs! I know! As if you don't remember me! LOL! I was thinking about calling you "BATGIRL'S WAR JOURNAL" but instead decided you're more of a Miss Stephanie. I didn't finish telling you what happened between me and the detective last night! I passed out after eating a pint of Ben and Jerry's Cake Batter ice cream and drooled all over the place. Disgusting!
Anywayz, the detective was getting all crybaby on me when I just wanted her to answer some questions about Nightfell. But she's all, "wah wah wah my husband died wah wah i became depressed boo hoo hoo!" Seriously, lady! We all have problems. Just tell me what I need to know! But before she could fill me in on her connection to Charlize "Nightfell" Charon, the rich little snobby girl, we had some unexpected company!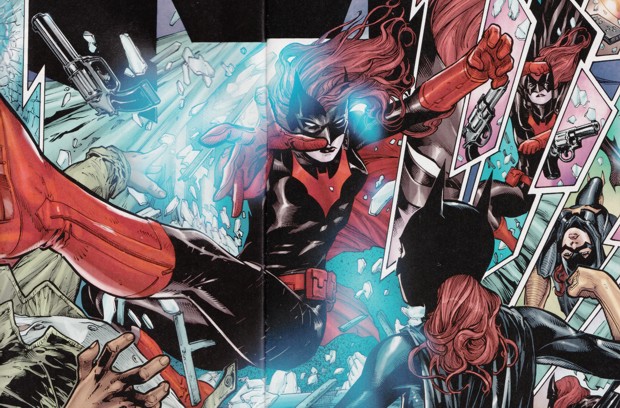 OMG! Can't anybody in Gotham use a door?!
It was Batwoman! I'd never met her in person. I always thought she looked so gothy and statuesque but up close? Seriously? Have you ever heard of daylight? Do you go out fighting in your Noxzema skin cream? I thought I was getting a little pasty with all my late night patrols! But aside from her ghoulish complexion, she was one hot mama! Good thing she's into chicks or I might be nervous about her stealing Nightwing away from me.
I couldn't figure out why she was attacking Detective Melody. I thought Batwoman hunted down Urban Legends? Why wasn't she out searching for that guy who murdered that little girl's dog? You know, the guy who hid under the bed and licked the little girl's hand all night long? Or maybe she should be investigating that well to hell geologist's found! Or figure out why that car always smelled like dead bodies! A bad detective who always takes the side of the bad guy and hates the super heroes isn't an urban legend in Gotham! That's the status quo! LOL!
And can you believe this, Miss Stephanie?! Detective Melody begins shooting at Batwoman! What is wrong with that pig? Did she forget the memo that the Bat Symbol means we're the good guys?! Except for that other night when Terminus went around branding everybody in Gotham with the Bat Symbol. That was totally f'd up! Now half of Gotham has scarification bat symbols on their chests. I don't think I could seriously date a guy with the bat symbol burned into his skin. I mean, I know it wouldn't have been his fault but it's just silly. It would be like dating Batman! *shudder* You can't think of your pseudo father figure every time you want to make out with your man, right?! I guess you could if you were all weird and stuff and got off on your step-father. But that just sounds icky and super icky.

This is what happens when you shoot at the Bat-Family!
I figured Batwoman had every right to kick Melody in the tits. Heck, Miss Stephanie, I've wanted to do that every time I've run into her. But I figured I could talk it out with Batwoman, you know, woman to girl. But that bitch kneed ME in the tits too! WTF?!
Oh yeah! I made a note to myself while fighting Batwoman! Let me stick it in here so I'll remember for next time.


So here I am updating: "GD that B can F!" Oh, I should clarify that the "F" stands for "Fight"! Also the "B" stands for "bitch" and not "Batwoman"! Hehehe.
Let me tell you, Miss Stephanie, that first fight against Batwoman didn't last long! While she was analyzing my fighting style and how to beat her, I was analyzing her analyzing my fighting style which is why she beat me! I'm so pathetic sometimes! WAH! Batman would be so disappointed.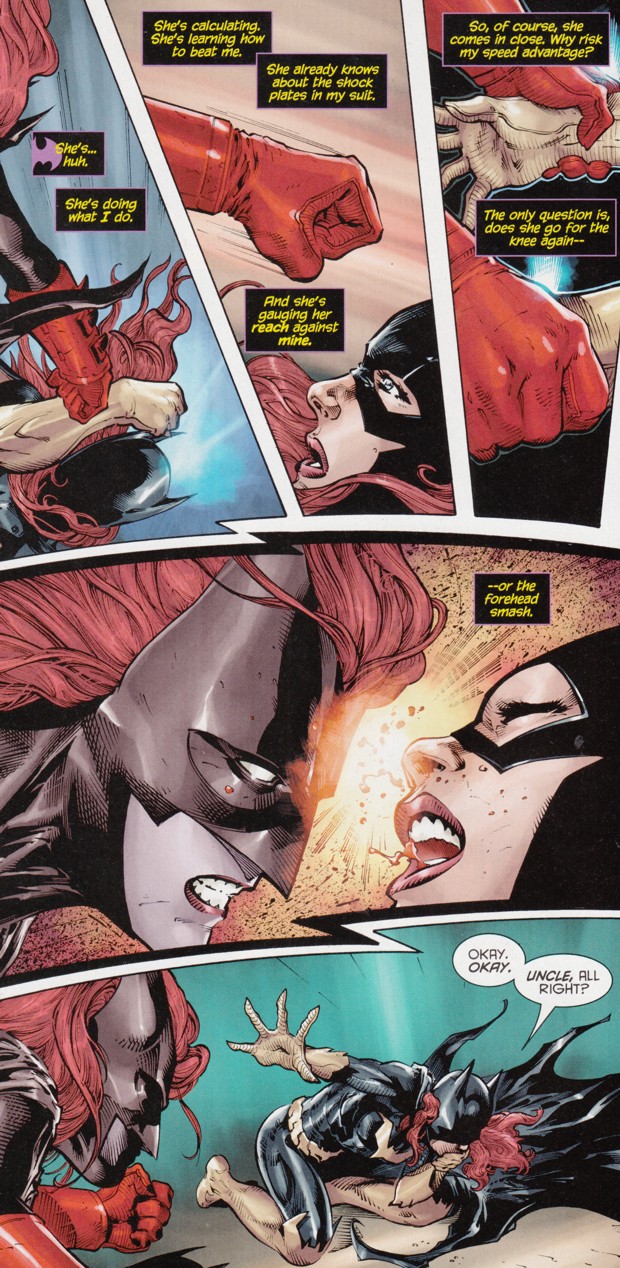 Her white skin is because she's made of marble! OUCH!
After I surrendered (yeah, yeah, I surrendered! What was she going to do to me? She's a BAT! A good gal!), Batwoman was all, "I'm taking the detective to see Mr. Skullybones." And I'm all, "Oh no you are not!" I figured acting as if I hadn't really been trying earlier was my best bet. Maybe she'd back down if I talked tough! At least I said, "Uncle!" when she smashed me in the face instead of "Is that all you've got?" I learned pretty early on that they've usually got a whole lot more.
While Batwoman and I were negotiating, Detective Melody received a call from Nightfell! Nightfell had caught that one legged car thief and was threatening to kill him if I didn't meet up with them all alone! Oh man. Why do I gotta care so much about the poor people? So that's what's happening tonight, Miss Stephanie. I gotta go fight Nightfell and Mister Bleck and Bonerbreaker and Antarctic again tonight. I just stopped by to take a quick shower and change my panties. The worst part about patrolling is you never know when you're going to get a potty break and then you find yourself really having to go and then Batwoman smashes you in the face with her face and you pee a little bit. I hope nobody noticed!
Anywayz! Good night for now, Miss Stephanie! I'll tell you how it turns out later if I'm not killed. LOL!

Batgirl doesn't know about this so it isn't in her diary!
Dear Miss Stephanie!
I'm back! I'm exhausted but I figured I'd better get this down before I pass out. I'm lying here in my underwear with my Batgirl costume kicked under the bed because I'm just too tired to put it away. I hope Alysia doesn't wander in and wonder why I've got a hot leather suit under my bed! LOL! She'll think I'm super kinky. Hmm. What if Alaska her new cat from the freaky boyfriend comes in and steals my utility belt? Maybe I should put it up. But I have to tell you about my night with Batwoman first! OH WOW STARSTRUCK!!!

I'm going to be just like her some day! Screw Bat-Patriarchy! Batwomen rule!
So I go to meet Nightfell and her goons on top of the Three Penny Towers or whatever and of course Nigthfell isn't there! What a coward. She sent Blecky Nickels and Bonerbreaker and Karthardic to stop me. Pshaw! AS. IF. Didn't someone give these ladies the memo? I'M THE GODDAMNED BATGIRL!

Seriously. She said, "Kill her ass." WTF?! Jealous much, you over-muscled, flat-assed ho?
These bitches told me if I came alone, I could save the car thief they maimed. But they killed him before I even got there. Well, they broke their deal, so I broke mine! Alone when I knew I'd be facing a bunch of liars and murderers and, as Alfred would call them, "retreaded good-for-nothings."
Boy, I sure could use some of Alfred's waffles right now! A couple of waffles with a doughnut in the middle and sausage in the middle of the doughnut covered in sugar and honey! OH GOD I NEED A MAN! I mean, I'm hungry! Oh, but first let me finish my story about how I broke the deal as well!

OMG! LOL! Why did she scream "Fire in the hole"? Is that some sex thing I don't know about?
I wonder what would happen if I did a Google image search for Batwoman, Batgirl, and Rule 34?!
Eww! OMG! ICK!

Whose webpage is this from? Who the hell is Jimmy Olsen?! Gross!
While Batwoman and Melody continued the fight on the roof, I went after Nightfell! Using Melody's codes, I managed to make my way into her office. Inside, she had a cage with Ricky the car thief in it! He was alive! There was also some other poor schlub in the cage. I began picking the lock to save Ricky but that skank Cherise knifed me in the back while Ricky tried to warn me! Ugh! I'm still really angry about that. And in pain. Um, I should probably go rebandage this wound since I'm beginning to bleed on the sheets. I'll tell you the rest of the story later, Miss Stephanie! Ow. OW! Gotta go!
Batgirl #12 Rating: +1 Ranking. Okay, okay. I'm trying to look past the incessant Narration Boxing and it's working. Once I decided to grasp it and read the comic and write the commentary as if Batgirl were updating her diary, I began to like Batgirl more. I think she should be sillier and sweeter and her Narration Boxes would work much better if they were pure thoughts in and of the moment. Many of them were in this comic and that works much better. Plus it felt like a substantial decrease in the amount of them. I like Batgirl and I like Batgirl's voice in the comic. So if I can just get past my bias of Narration Boxing, I think I could really like this comic. Besides, Gail Simone's Narration Boxes actually give Babs inner thoughts and relate to what's going on instead of the profound nonsense that gets spewed out of Grifter and Hawkman's Boxes.