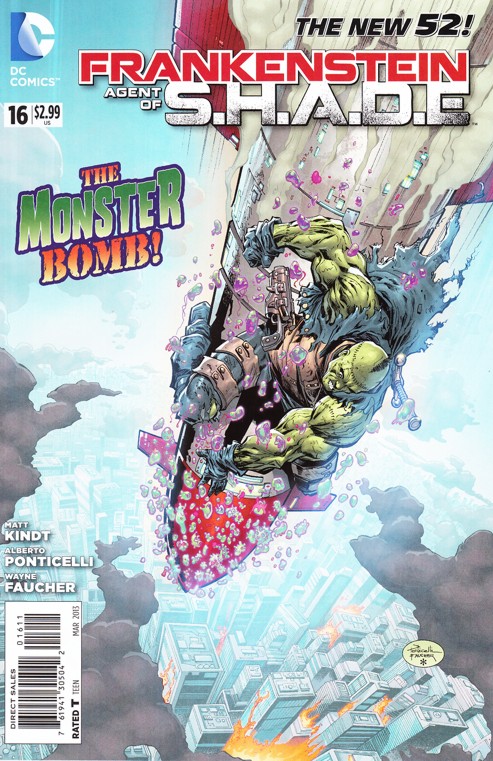 Shit happens and destroys everything.
Simply hating (and despising, etc.) Savage Hawkman alone didn't end Savage Hawkman's agonizingly depressing existence. Seems historically, asinine DC executed some half-assed decisions. Ending S.H.A.D.E. shows how, again, DC expresses sheer hatred against dedicated enthusiasts.
Yeah, I'm going to stop with that because I'm just going to sound more and more illiterate as I try to force myself to stick with that pattern. I just couldn't resist since Savage Hawkman sets up that mini-SHADE-rant so nicely! But that last sentence? Ugh. Forgive me!
The final issue of Frankenstein begins in a Central City not currently full of monkeys. Maybe Keystone City was full of monkeys. Maybe both cities were full of monkeys. Why did DC even bother to keep both cities? They were basically the same city but on two different Earths. Were they that important that they couldn't be merged? You know what? Let's fuck Silver Scarab and Power Girl and Jade and Obsidian and all of the other Infinity, Inc kids in the ass but we can't lose Central City! (Some of you less sensitive people might be thinking, "Hey! I bet Obsidian loved being fucked in the ass!" Shame on you! DC does not fuck people in the ass gently or with consent!) Perhaps there are some stories I don't know about that were essential to keeping these two cities on one Earth but I doubt it since if I don't know about it, who fucking cares? Amirite?! This is where we high five and then look awkward and embarrassed that we partook of that form of social bonding until we both decide we did it ironically and thus can live with ourselves once again.
A bunch of freaky-deaky weirdos (no offense to freaky-deaky weirdos) have gathered to be weird and freaky underneath the Devil's Watertower.