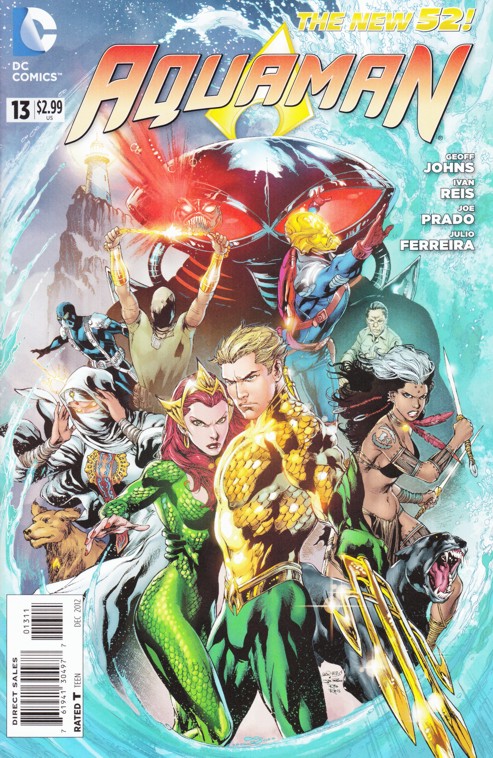 Aquadog is going to get one of The Relics and become a hero as well? I can't wait!
Aquaman, you better get back to impressing me damn quick or I'm going to begin thinking up more jokes about you! I know, I know! It's cool to think Aquaman is awesome. But have you noticed that everyone is trying just a little bit too hard to be a fan? Everyone is just a little bit too defensive. The underlying truth that you're the most useless member of the Justice League can't be erased by loudly shouting how amazing Aquaman is and photoshopping him defeating Cthulu. The one issue so far that focused on Mera was the best fucking episode of this title so far! It really should be about her since I like her powers better and I like her attitude better and I like her butt better. I also just think she has a more interesting story to tell. But I guess I'm stuck with you.
So impress me, Aquaman. Impress the fuck out of me.
The issue continues with Aquaman once again sending all of his friends away. They just want to help but he's seen two of them die because of him and he's had enough. It's time for this rivalry with Black Manta to end.


I bet they kiss and make up.
Black Manta has Ya'wara's teleportation orb, so Aquaman's big moment where he confronts Black Manta alone never happens. Arthur heads back to The Others and they track Black Manta aboard The Operative's airplane. On board, everyone gets all weepy and confessiony. Dr. Shin whines about it being his fault that he hired Black Manta so many years ago which resulted in Arthur's father's death. But Arthur acknowledges the doctor said his father's heart attack was inevitable, so it wasn't Black Manta's fault. So Arthur whines that he's to blame for everything since he killed Black Manta's father by accident when he meant to kill Black Manta. But his friends point out that Black Manta's father was a right old bastard that was wanted for murder, so it's probably okay that Aquaman killed him. The whole situation is a gigantic clusterfuck that Aquaman and Black Manta have kept going for over five years now.

And not a very good one at that.
Eventually Black Manta's teleporting stops in the middle of the ocean where he's meeting with some Atlanteans in a giant ship shaped like a crawdad. They're paying him for the return of the scepter and giving him control of the surface world once they take over everything. But Aquaman arrives in time to steal the scepter and kill the deal.
And it looks like Ocean Master, Aquaman's brother Orm, is captain of the crawdad. But he's not ready to confront Aquaman, especially now that Aquaman has the Scepter. Although he doesn't have it for long. One of the Atlanteans has some kind of Spiderman web technology that he uses to grab the Scepter. As soon as he has it, Orm's ship shuts down and sinks into the water, leaving Black Manta to kill Aquaman and his friends.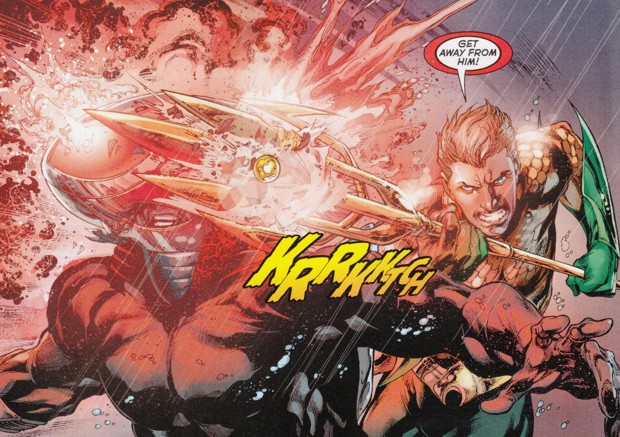 Or you know, vicey versy.
In the end, Aquaman risks his life to save all of his remaining friends and then doesn't kill Black Manta when he has the chance. Oh, Aquaman. At least you could have been the Justice League member that kills his enemies. But I guess Wonder Woman already has that role.
When it's all over, Aquaman questions whether it was Orm working with Black Manta or not. Is there any other villain from Atlantis that Aquaman would be dealing with? I have to stick with my assumption that it was Orm. By the way this issue ends, it's possible the people behind retrieving the Scepter are simply trying to bring Arthur back to rule Atlantis. Perhaps its a group that wants to rid Atlantis of Orm's rule. Whoever it is, they seem to think that Mera is going to stand in the way of getting Aquaman back on the throne. But that's a story for next month.
Aquaman #13 Rating: No change. Although this series has had some of the best emotional moments, the overall plots haven't really engaged me that much. Mera's story was the best of the bunch so far. And The Others had a few issues that felt exciting but was ruined by other issues that spent many pages spinning its wheels and going nowhere. And the ending was a bit sloppy as well. Black Manta did all of this to earn some treasure and to rule the surface once Aquaman is out of the way (dead or underwater ruling Atlantis, I guess). But then when Aquaman defeated him, Black Manta readily called for Arthur to kill him. Seems to me like he got what he wanted and should have teleported out of there. I guess what he really wanted was to die by Aquaman's hands. But he could do that anytime in anyway without some huge convoluted plot. Oh well. I guess Black Manta will be back in a few issues to try his hand at dying again.