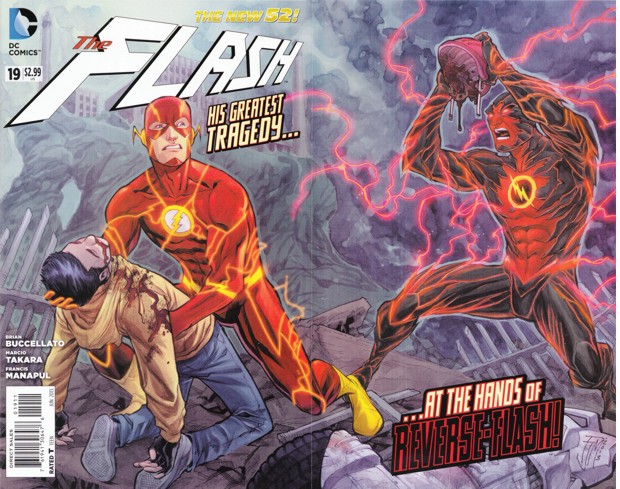 This issue should probably be dedicated to Carmine Infantino.
The Flash recently lost his powers to some irresponsible jerks with a magic dial and now he's trapped inside Iron Heights Penitentiary (unless it's called something different) while Outlander Nation storm the walls to free The Trickster. And now it looks like Reverse Flash is coming from the future to cause a Reverse Flash Point. This won't restore DC's old Universe. It'll just make this, hopefully, The New 25! Then maybe I'll actually have some fucking free time to do some other reading and writing. And have relationships with things. And keep my business from failing. And eat more cookies.
I'd actually began typing "Get more exercise" for that last one and then thought I'd be honest.
Luckily news reports update everybody constantly so that Speed Force can learn about the trouble at Iron Heights and head over to help out. It'll be nice to have a few people who haven't had their powers stolen in on the action even if they have stupid powers like flying Segways and running really fast in super short bursts. Unless Sprint and Turbo Charger have different powers than I'm guessing they have because their powers weren't actually explained last issue. And why did just these two guys get powers while Sprint's girlfriend and Iris West didn't get any? The Speed Force Dimension is fucking sexist.
It looks like Sprint has already discovered the fringe benefits of super powers.
Over at Iron Heights Prison, Outlander Nation seems to have decided that saving The Trickster isn't exactly their main priority. Why not rob the Prison Armory while they're there, right? Too bad for them, Barry Allen (who isn't The Flash right now because of stupid Nelson Whatshisname) has beat them to it. Sure, he's locked in. But he's gathering up all of the super villain weaponry to protect it. In the first panel Barry appears, he's gathering up boomerangs. But who uses Boomerangs anymore? Captain Boomerang doesn't use physical boomerangs! He creates them out of thin air or something. Just like all of The Flash's enemies now. None of them use weapons anymore since everybody finally realized that The Flash instantly disarming super villains made for a really boring comic book that still somehow ran for hundreds of issues. I guess the weapons Barry's getting together are all from the old days before the super villains actually became super.