I'm pretty sure Window Kid is a member of Boy Chimney's super group, House. Or Home. And I guess Roxie has turned into Clown School Balloon Battalion.
Time to see if Roxie and Nelson can defeat The Human Centipede and The Fixer without using their dials! Because Nelson just had an ethical meltdown about how using the dials is unfair to the people whose powers they're stealing. Oh! But I just realized something through clever deduction and detective work! The cover shows them using stolen powers! So I guess he's not as righteous as he'd like to think he is.
At least the first part of Nelson's plan doesn't involve dialing.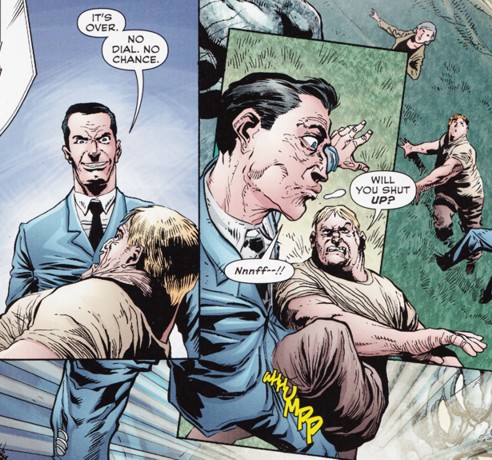 The Human Centipede will simply reverse back to a place in time when he hasn't been kicked in the balls but that can't take away Nelson's satisfaction.
The rest of the fight basically comes down to a brawl for the Hero Dial. Eventually The Fixer bitch slaps The Human Centipede to get her (I'm gambling on The Fixer being female) hands on The Dial and The Human Centipede suddenly becomes hurt and indignant. Isn't that the way with human centipedes? They're all so fucking touchy.
The Fixer turns into The Moaning Mummy and shuts down Nelson's Hero Dial with his magic bone screwdriver. But Roxie has some kind of plan that involves turning into a Sidekick. Perhaps she realizes that The Fixer, being a Hero, cannot harm her if she becomes a Sidekick. In fact, The Fixer must love, adore, and protect her! Although her actual motive might be a chance to fuck The Fixer once they connect as Hero and Sidekick.