With a change of writers, I'm hoping more people than just Lime Light will end up dying. Fucking Adam Glass! How hard is it to make Suicide Squad successful? You change up the team every few issues, you kill off old B-List villains hardly anybody remembers, and you put Captain Boomerang on the team! That one sentence was a more successful issue than any Adam Glass wrote!
Last issue Deadshot was killed. Again. Also The Unknown Soldier showed up because the main thing this team has been lacking is a Rick Flag wannabe. Also the comic has been lacking a guy with bandages all over his face. And a guy with an enormous penis. I mean a guy with an enormous penis that isn't also a shark.
The issue begins back at Belle Reve where Deadshot is undergoing another infusion of Samsara. Voltaic is playing Scrabble with Harley Quinn but zombies suck at Scrabble so he doesn't stand a chance. A mysterious classified person meets with Amanda to discuss some of the other inmates.
David Graves, the cancer-ridden writer that's currently writing a book for Amanda. I think. That was a long time ago. Cheetah, the God of Cheetahs. She's waiting around to be rescued by
The Legion of Doom
The Secret Society of Super-villains. King Shark, the Shark. He's busy reading and turning into a giant vegan pansy.
I suppose with a new writer, a lot of characters are going to go through instant changes without any rhyme or reason.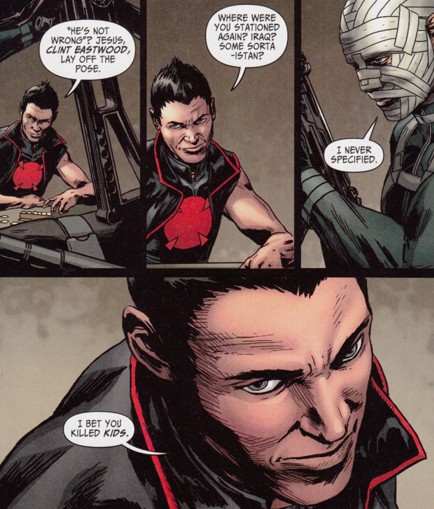 See? Voltaic is no longer simply a reanimated corpse! He's a real, living, talking, Scrabble playing boy!