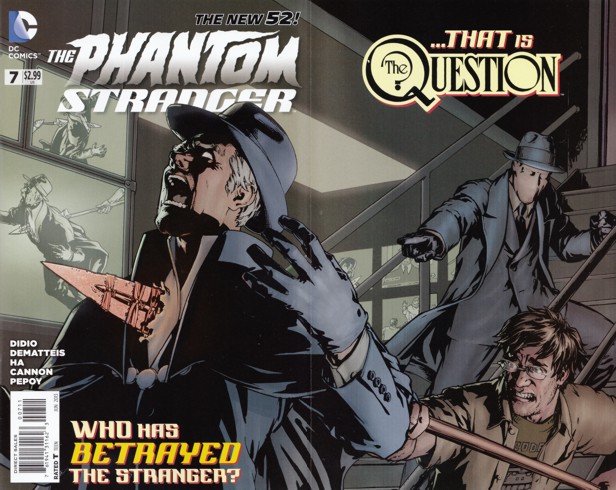 Get it? The guy that betrays people is getting a taste of his own semen! Wait, that's not how that saying goes.
The new Dr. Thirteen looks like my cousin Travis. What that means is that he looks appropriately nerdy on this cover. I think maybe his chin should be a bit weaker, maybe his glasses a bit thicker, his teeth a wee bit scragglier, and his hair slightly greasier. And then he'd be an appropriate stereotype and I could accept him being the super smart technological master he is! But he'll just never be as awesome as his top hat wearing, sideburns sporting, fully rational ancestor. This guy just feels like a conniving jerk that desperately wants to be in on the important goings on in the New DC. And now he's going to try to murder The Phantom Stranger with the Spear of Longinus? Hmm, I could buy that.
The issue begins with The Phantom Stranger sitting in church. Is he seeking solace? Is he basking in the glory of his ultimate betrayal? Or is he just taking a break from wandering forever? Whatever he's doing, it's interrupted by a priest homing in on the scent of despair.
You know, I don't mind if you want to try to convert me while I'm in your church. But if you dare fucking quote C.S. Lewis at me, I'm getting the fuck out of here.
That quote is just the kind of bullshit that C.S. Lewis was the master of. He had a way of saying things that people who were desperate to believe or already believed or were too stupid to respond with, "That actually doesn't make any fucking sense," would eat up as profound wisdom. Let's pretend this wasn't just linguistic pablum and take it seriously for a moment. How would C.S. Lewis know it was all plan and not "no plan"? Yeah, he can't know it but oh my Lord doesn't it just FEEL RIGHT?! Hallelujah! That makes so much sense! And something without a center? Why, maybe it's all center! My next project (after DC crumbles and returns to the old Universe which I won't be going back to) is to do a line by line analysis of Mere Christianity. If I can manage to keep my lunch down as I read it.