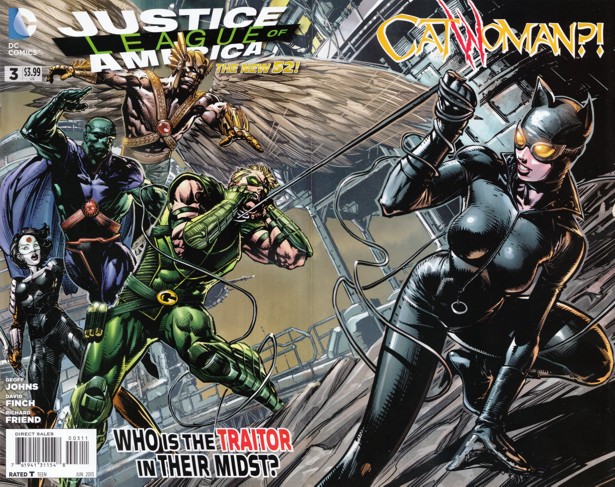 That's not the real Catwoman. She knows how to work a zipper. Or maybe she doesn't? Why is the pull tab on the zipper down at the bottom? I guess it opens from the belly button up in case somebody needs to do some emergency belly shots off of Selina's stomach.
This cover is a Who's Who of the worst comic books of The New 52! Granted, Green Arrow is finally being written to character. But before that, he was just another one of Ann Nocenti's failures. Three of Ann Nocenti's characters on the cover! I wish she'd write Hawkman as well.
Also, I thought Green Arrow didn't make the cut? Is he going to just keep showing up until everybody believes he's a member? Perhaps this takes place after he proves himself by taking down Komodo and having a slumber party in the desert with Magus.
I was going to scan Green Arrow pouting in the locker room and declaring that he was going to make a major comeback after being down and out for a year and a half but then I saw Stargirl's public service announcement which set off one of my pet peeves.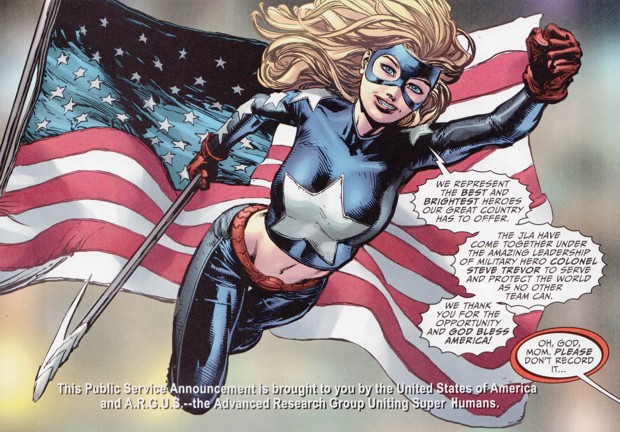 Look, colorist Sonia Oback, I don't give a fuck if you burn it, wave it, or wipe your ass with it. But how fucking hard is it to find a photo reference of the American flag so you can get the fucking color scheme right? Jesus H. Lincoln.