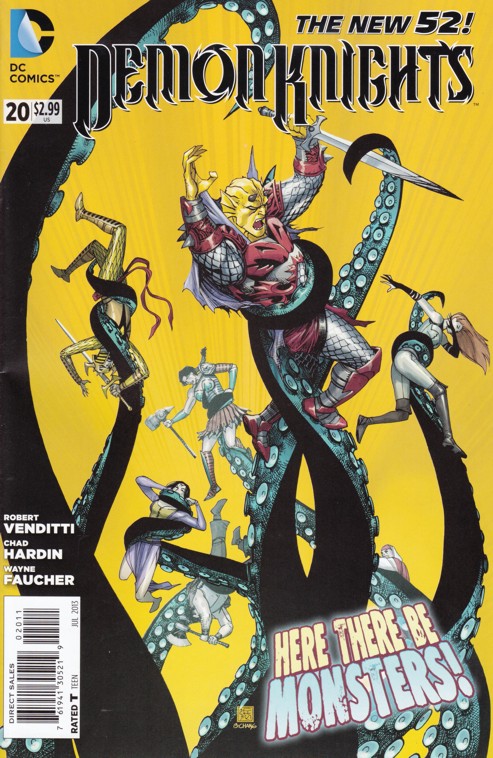 I wonder if Octopi feel slandered and defamed because of Hentai? Because I can't see a fucking tentacle anymore without believing it's in search of an open orifice.
The Demon Knights have saved Themyscira by killing all the vampires. Although Cain escaped so he's sure to go make more vampires before The Demon Knights can lock him up inside of Andrew Bennett. And The Shining Knight has gone all Bladey and become a half-vampire or something. I think The Shining Knight's goal is to eventually be able to check every single box in the race category on the census form.
As thanks for saving Paradise, Hippolyta has some information for the Demon Knights concerning their quest.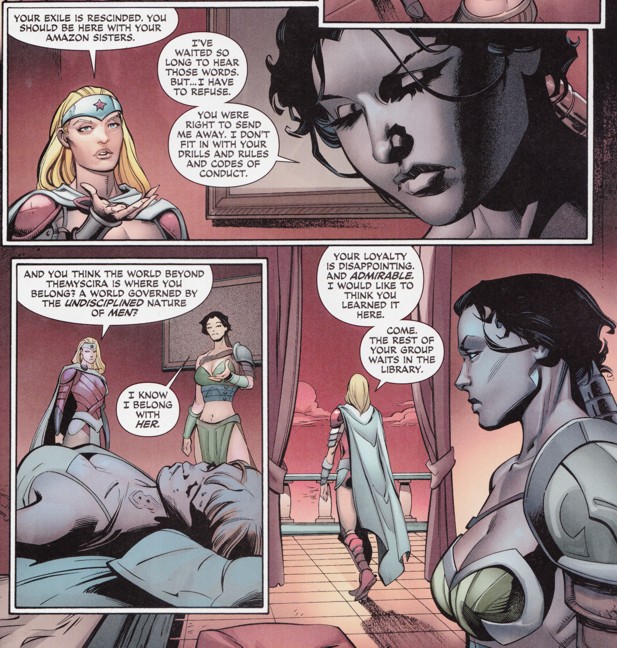 At least when Sir Ystin turns into a vampire, she'll easily be able to walk amongst the humans since she has so much practice passing.
Hippolyta directs the Demon Knights to the Amazonian Library of Congress to learn about The Holy Grail.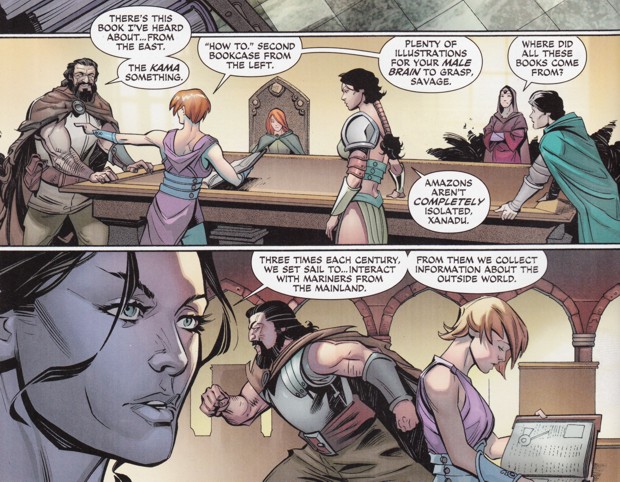 Excerpt from Richard F. Burton's translation of the Kama Sutra: "The following women are not to be enjoyed: a leper; a lunatic; a woman turned out of caste; a woman who reveals secrets; a woman who publicly expresses desire for sexual intercourse; a woman who is extremely white; a woman who is extremely black; a bad-smelling woman; a woman who is a near relation; a woman who is a female friend; a woman who leads the life of an ascetic; and, lastly the wife of a relation, of a friend, of a learned Brahman, and of the king." So that leaves what? A young, mute, slightly tanned stranger that has just taken a bath and doesn't want to have sex with you?
Exoristos almost goes into the story told in Wonder Woman about how the Amazons mate. My only question is if they only get reading material from sailors, shouldn't it all be porn and Stephen King novels?