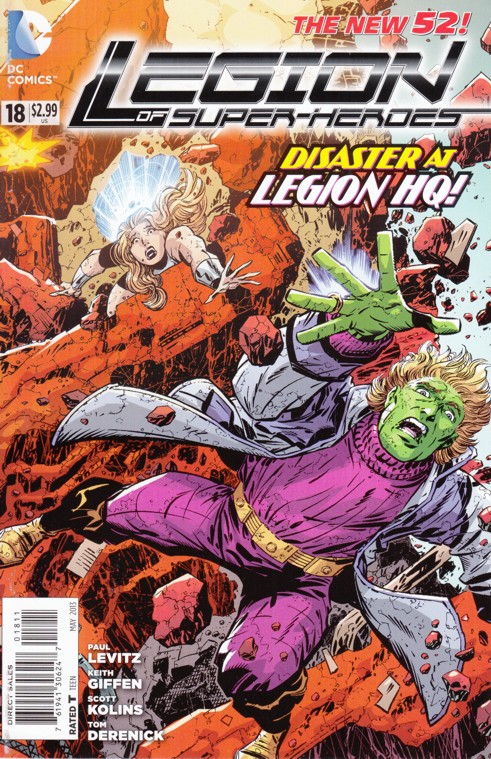 How's your Level 12 Intelligence going to get you out of this mess, hunh?
The only thing you need to remember about last issue was how Sun Boy was eaten by aliens.
Oh, I guess The Fatal Five were up to no good and caused a massive power outage across the entire universe. That seems to be an issue back on Earth at Legion Headquarters. A huge
crowd
mob has assembled outside Legion HQ to blame the Legionnaires for the problem. They threaten them. They throw rocks at them. They act really surly! But Harmonia tries to talk them down. Almost hit by a rock? No problem! She remains calm and assures them Legion is on the job. But when a Futurecast Blogger begins asking probing questions about Brainiac's involvement in this disaster?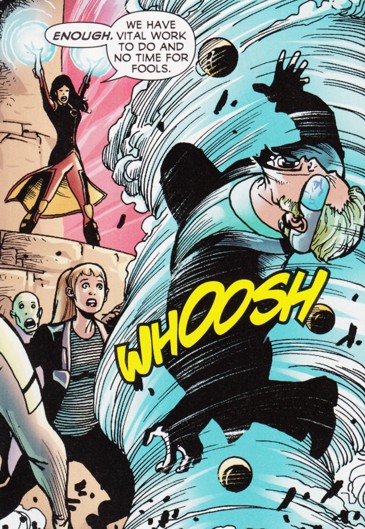 "No more questions!"
The Legion know who the truly dangerous citizens are! They aren't the ones that resort to violence. They're the ones that begin asking questions. And questions can only lead to answers! And answers are, well, answers are pretty good, actually. Unless the answers portray you in a bad light! If I were these citizens, I'd be even more suspicious of Legion now than I was before I was trying to kill them!