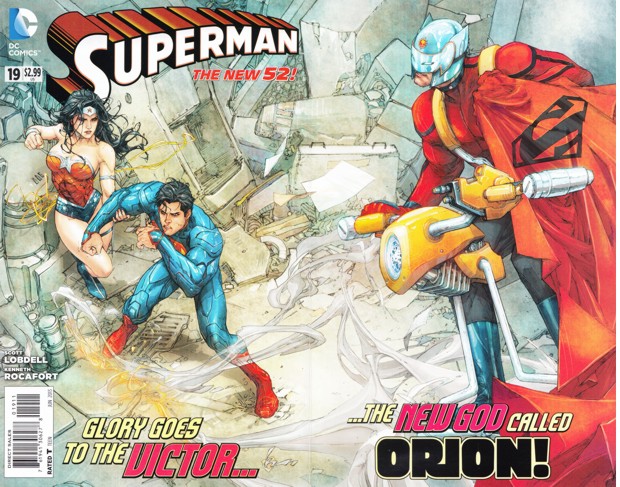 If Wonder Woman can beat Orion and Orion can beat Superman, then transitive property conclusion!
I've actually been pretty happy and upbeat all morning and then I picked up Superman to read out in the sun in the backyard, and suddenly all of my energy was sucked out of my body and I began to fall into a deep depression. I'm out of breath. I'm angry. I want to quit reading Scott Lobdell comic books altogether. I sat here for ten minutes watching and listening to the birds and trying to relax. And finally I opened this comic book to the first page and my day was utterly and completely ruined.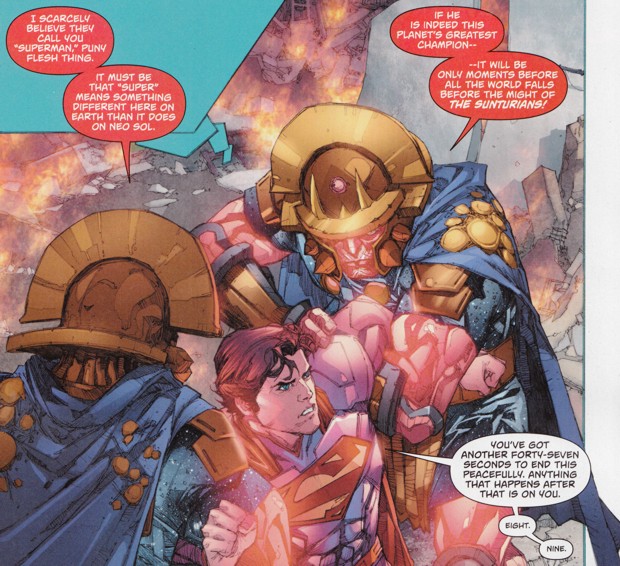 Is everybody in Scott Lobdell comic books counting down before beating people up this month? He seriously uses the same exact opening here as he did in Teen Titans. Fuck you, Lobdell.
So there is a race of beings living on our sun. And they speak English. And the one word that might mean something different is "super". And they want to conquer Earth why? If they live on the sun, the Earth wouldn't exactly be the ideal environment for them. How about Mercury? Probably more in line with their usual living conditions. And how do they live on the sun, exactly? Do they have a floating city made out of Inertron? How do they keep their clothes from exploding into flames? Are they super evolved ancient Romans that built a road to the sun because the Romans were so good at building roads? It makes sense since they also conquered Europa as seen in Voodoo.
I believe that last paragraph of speculation was, by itself, more speculation about the Sunturians than even Scott Lobdell did. He probably came up with the name and then wrote this opening scene and then stole Superman's reaction from Red Robin and Wonder Girl over in Teen Titans because not use the same shit over and over again when DC is paying you to write more than one book? Grab up all the easy money, my friend!